EBC-Equipped rider moves up the classes to the 1000cc series for 2021
Long-standing EBC-supported Ed Watson of the TEA Time Racing outfit will move into BMCRC's larger-capacity Thunderbike Ultra class for the 2021 season, with his new 2005 Suzuki GSX-R 1000 machine.
The rider was 2017's Bemsee Rookie Minitwin runner-up, as well as being a runner-up in the Thunderbike Sport category in 2018, 2019 and 2020. As per previous years, he will continue to use EBC Brakes' MD floating discs, GPFAX/Double-H sintered pads and high-performance clutch in each race.
Watson talks us through his career so far and what to expect in 2021, below.
"Coming from a family of petrolheads, the passion was inevitable: fuelled from a young age with go-karting and riding motocross bikes around fields. Spending my teenage years in Italy where you could legally ride a 50cc on the road, the passion built and despite some setbacks in 2012, I got my first taste of track days on an old Suzuki GSX-R 600 SRAD.

After a few years' playing on Honda Fireblade 929s and a Triumph 675, my brother decided to give racing a go with the Bemsee Minitwin class. After my first weekend on the tools for him, I knew I needed a bit of the action too, so with our Dad we built a second bike for me to race in 2017.

So, having got my race licence, it was time to start racing. Something I found on my first ever race weekend was how much your riding changes, even after the first session. You become very aware how little of the track you are using, how much later you can brake and earlier you need to open up the throttle. However, these are things that you pick up very quickly when you can see what other people are able to do with near identical machinery and the competitive spirit sets in to beat them!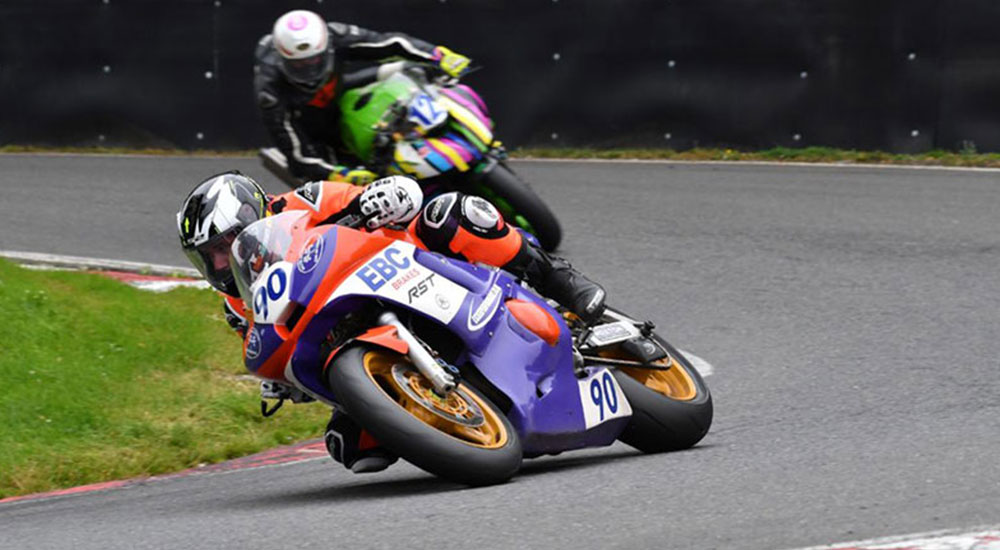 "In the four seasons that followed, there have been numerous highs and lows, from battling for wins and championships to hearing scraping metal of your bike when you make a mistake.

Although finishing 3rd in the Rookie championship felt amazing, my biggest achievement would be my first race weekend on my old R6 5EB. Having started the season on a Minitwin, I had gone as far as I could with that bike by mid-season, opting to switch to the R6 in the Thunderbike Sport championship and join my brother who was fighting for the championship.

Qualifying 18th, it took some adapting, but on the Sunday I managed to win both the class races in a field of 43. On the flipside, my lowest low and hardest challenge came in 2019 at the opening round, crashing out on entry to Paddock Hill at about 120mph after starting my braking on some oil I had not seen. This destroyed my confidence on the brakes, though thanks to the feel and feedback from the EBC Brakes pads and discs I was still holding mid-field pace and was able to rebuild my confidence relatively fast.

The main bit of advice I would give anyone looking to get into racing is to not cut corners or have a 'good enough' attitude. Yes, you can race on a completely standard bike, however investing a properly set-up bike will allow you to improve and break your limits faster. For this reason, we have always used EBC Brakes race clutches, brake discs and pads as they provide both reliability and fantastic feel for what the bike is doing underneath us.

What's next? When the 2021 season eventually gets going, I am moving up to a litre bike in the BEMSEE Thunderbike Ultra Class on a 2005 Suzuki GSX-R 1000. Having tested the bike at the last round of 2020, this looks to be a good fit for my riding style, so hopefully we should be in for another season battling at the front.

The ambition would be to give the team the top championship spot which has alluded us so far, with my brother Tom taking a 2nd and 3rd in Bemsee's Thunderbike Sport over 2018 and 2019 respectively. Although I would love to have a go on a full Powerbike and race at a BSB weekend, I think at 31 I have passed my prime, though never say never…