The firm made the pilgrimage to the iconic automotive show on England's south coast
The EBC Brakes UK team recently spent four days at the mighty Goodwood Festival of Speed event at Goodwood House near Chichester.
The international motor show offers an eclectic mix of road and race machinery that is difficult to match anywhere else around the globe, with hundreds of thousands of fans descending on the scenic venue across the weekend.
Despite adverse weather meaning organisers could not open the gates to the public on the Saturday, the remaining three days proved very successful for the team, who were on-hand to showcase new products and shout about EBC's 40th anniversary.
There were also a number of EBC-equipped vehicles on display around the event, which we will look at in more detail below.
Milltek Sport – G81 BMW M3 Touring
Another firm celebrating its 40th anniversary with a special display was Milltek Sport. The company's recently acquired BMW M3 Touring took pride of place, complete with EBC Brakes Racing fully floating two-piece discs and RP-X™ pads on both front and rear axles. EBC is proud to be one of the first aftermarket companies to offer uprated components for this highly anticipated car.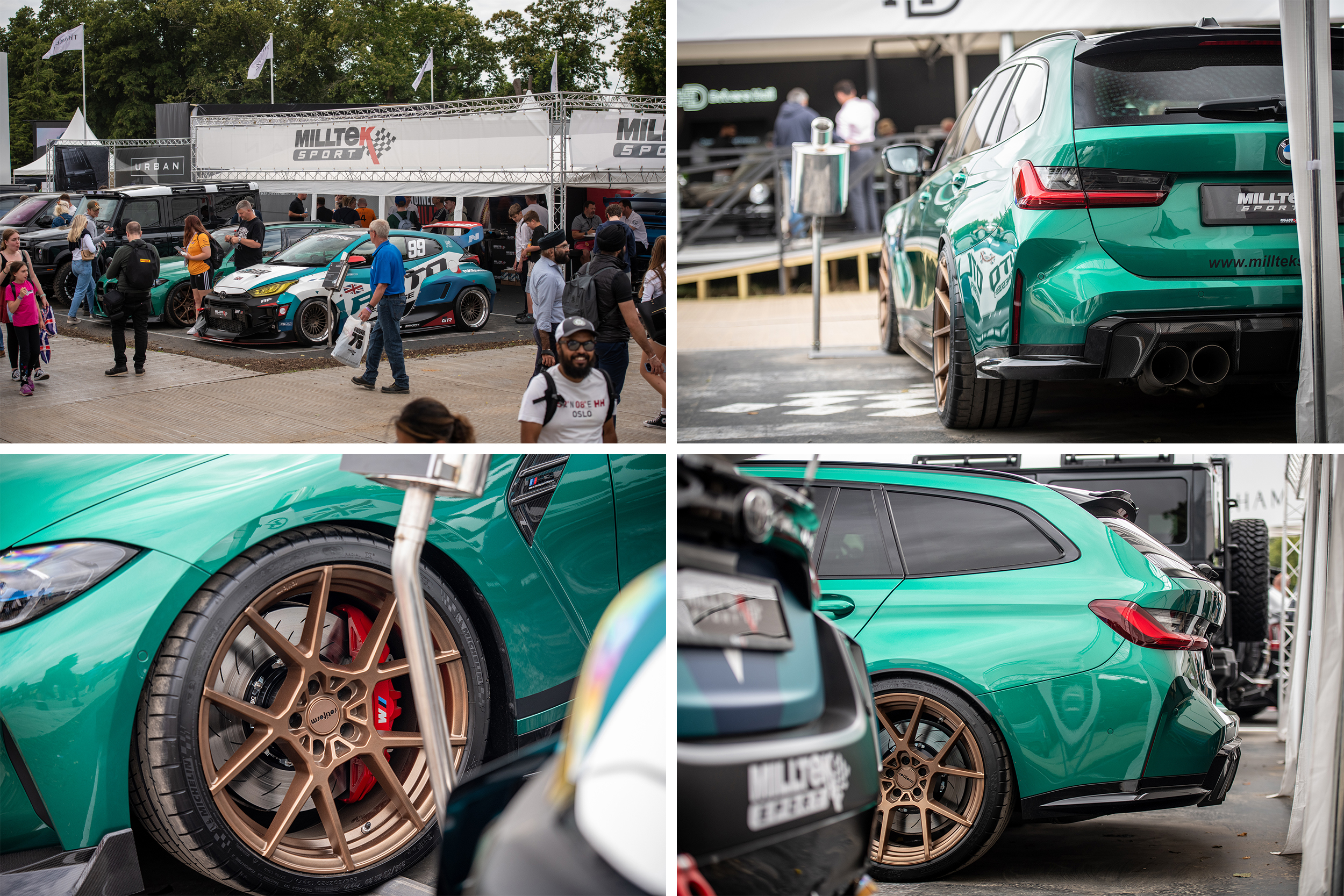 R44 Performance – G80 BMW M3
Sticking on the lines of the new BMW M3 – this time in saloon form – was R44 Performance's striking example sitting pretty on the Grail stand, that was once again showcasing EBC's two-piece discs and RP-X™ pads. With its bold colour scheme and other striking modifications, it goes without saying that this car was receiving a whole load of attention.

Stuart Egdell – S14A Nissan Silvia
Over on the Helix Autosport stand was long-term EBC-supported pro drifter Stuart Egdell's monstrous 2JZ-powered S14A Nissan Silvia. As Egdell competes in the British Drift Championship for another season, he proudly uses our RP-X™ pads and GD discs.

Pipercross – Mk8 VW Golf R
Our friends at Pipercross were proudly showcasing their Mk8 VW Golf development car, which had been over at our HQ in the days leading up to the event for an all-new six-piston Apollo Big Brake Kit to be fitted. This kit not only fits the Mk8 GTI/R models, but also the Mk7 variants, too, meaning it's sure to be a popular upgrade for many hot hatch owners!
Gigglepin – Bespoke Off-Road Vehicle
Over on the off-road demo field, the Gigglepin Racing team were showcasing a completely different form of motorsport and illustrating just how broad EBC's range of braking components are. The team were piloting their LS7 7-litre V8-powered off road monster around the demanding course, complete with EBC Brakes' Bluestuff NDX pads all-round.
EBC Brakes will be in attendance at many more events throughout the remainder of the year. The next show will be Ford Fair at Silverstone Circuit, Northamptonshire, on 13 August.