EBC Brakes' high-performance caliper range offers a raft of impressive features at an affordable price point
When it comes to upgrading your performance car with uprated high-performance brake calipers, there is a lot of choice out there, with some options performing much better than others.
It's therefore crucial to read into the specifications of each product before you commit to purchasing.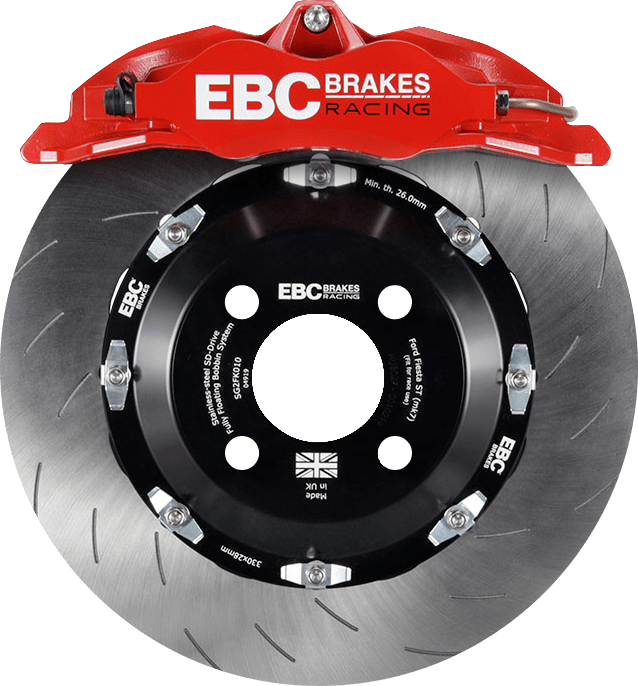 This article focuses on the high-quality EBC 'Apollo' offerings in four- and six-piston designs that represent some of the finest brake calipers ever made.
Below is a list of the key features found on all EBC Brakes Apollo calipers. When making your decision, be sure to check whether the lower or competitively priced calipers from other manufacturers also have all of these features:
Made in the UK using heat-treated pressure die castings
FEA (Finite Element Analysis) design – no weak points
Teflon Polyester painted (not powdercoated which doesn't last)
High-tensile half and bridge support bolts – STRONG rigid design – no flexing
Stainless bleed nipples – no cheap zinc-plated steel versions
Stainless pad abutment shims – no pad-to-caliper damage in use
Aluminium hard anodised or stainless piston options with serrated front contact face for reduced heat transfer
Delivered with EBC Brakes high-performance pads at no extra cost
Range of relocation brackets available including EBC's new unique universal bracket to allow adaptation to a wide range of cars
EPDM rubber seals for longer life and better heat performance
EBC's Apollo-Series Brake Calipers
Apollo brake calipers utilise a two-piece bolted design, incorporating high-tensile 12.9-grade steel bolts for reinforcement of the caliper bridge section. Computer FEA analysis shows that the utilisation of high-tensile steel bolts to reinforce the bridge brings significant improvements in caliper stiffness compared to a mono-block design. A stiffer bridge section means less elongation during brake apply, giving a firmer and more responsive pedal feel, especially after a period of harder braking where the aluminium bridge of a mono-block design caliper softens appreciably with increasing temperature.
Unlike the vast majority of cast calipers, which are typically gravity cast, Apollo-series caliper bodies are machined from heat-treated low-pressure castings. Low pressure casting is a vastly more expensive production method than conventional gravity casting, but by forcing the aluminium alloy into the mould under pressure the consistency of the finished part is greatly improved. This gives EBC's Apollo series brake calipers a noticeable performance advantage over conventional gravity cast calipers, exhibiting higher overall strength and a comparable caliper body stiffness to forging.
Unlike most painted calipers on the market, Apollo brake calipers are not painted using a powder coat finish. Powder coat cracks and discolours with exposure to high heat, meaning that powder coated calipers look great out the box, but the colour quickly fades away in use. We don't just want Apollo calipers to look good in the box, we want them to look great for years to come, that's why EBC finish every caliper using our advanced high-temperature Teflon™ polyester coating process. This top-coat paint system is similar to what's used in the cookware market on the underside of pans and it gives a durable, fade resistant coating that's easy to wipe clean and ensures that Apollo calipers will look great for years to come.