Lee recently attended Donington Park with his new products installed and was impressed with the results
Keen to get involved in the thriving motorcycle track day scene that the UK boasts, Lee purchased a Yamaha R1 in May 2021, planning on attending a number of circuit events over the summer months.
Before he took to the track, he sensibly thought it would be a good idea to upgrade his brake discs and pads, eventually opting for EBC Brakes' X-Series floating discs and HH sintered pads.
Lee had great results from these products on a recent track day at Donington Park, and is now keen to out take the next step and try EBC's more aggressive EPFA pads during a future event.
You can read how the day panned out in his own words below.
"The initial bedding-in process was stress-free; I was gentle on the pads, getting them up to a high temperature, then letting them cool slightly and repeating.
"Once bedded-in, the lever feel and braking power was incredible; it filled me with confidence knowing that I would be able to slow down enough for corners when on a spirited ride.
"I had a track day booked at Donington Park – known for being heavy on the brakes. I had full trust in the EBC products recently fitted. Whilst doing the sighting laps, I was making sure the brakes were fully bedded-in and ready to go.
"The morning sessions went really well with great performance from the discs and pads. Lever feel, modulation and braking power was the best I have had on any bike so far. As the day went on and learning the track meant I was entering corners faster and braking later, the pads seemed to still be performing well.
"As an avid track day attendee and after speaking to the EBC tech team, I will be trying out the EPFA range on my next outing to take the performance to the next level."  
Thanks to Sophie Gott for the images
Double-H Sintered Superbike Brake Pads deliver high performance and are well known as the EBC flagship sintered streetsport brake pad.
View Product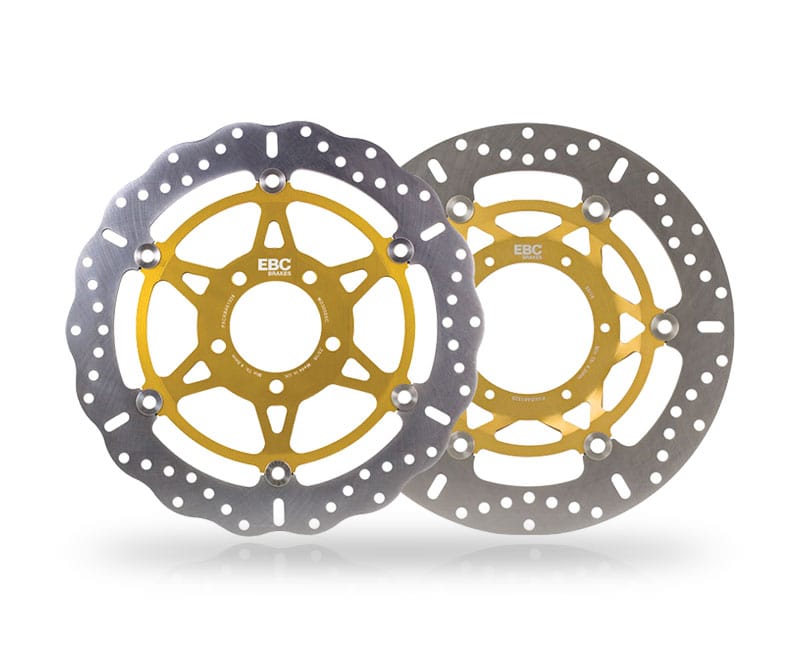 Floating Motorcycle Discs
Since their introduction, EBC's ultra-lightweight floating motorcycle rotors have become one of the worlds best selling lightest and best performing discs available for all modern sport bikes.
View Product