The stunt rider piloted his electric motorcycle through Minneapolis' 'Skyway'
EBC Brakes ambassador Aaron Colton is undoubtedly one of the world's most popular street freestyle riders, with his talents extending to multiple disciplines of motorcycling including AMA Pro Road Racing, AMA Flat Track, WORCS (World Off Road Championship Series), Supermoto, and Motocross.
His latest challenge – filmed for a blockbuster Red Bull video – sees him tackling his native Minneapolis' famous 'Skyway' – a system of elevated walkways that connect buildings throughout the downtown area, allowing the 200,000 people who work downtown to move from building to building without ever having to step outside.
For the challenge, Colton decided to opt for his heavily modified, all-electric Alta stunt bike, which proudly sports EBC Brakes' FA-compound brake pads and custom-made rotors all-round. Stunt riders rely heavily on strong, reliable brakes to perform their gravity-defying feats, with Colton entrusting EBC Brakes for a number of years.
From a young age, Colton has been fascinated by the architecture and features of the distinctive Skyway system in his home town, and saw the project as a way to celebrate and highlight something that makes Minneapolis truly unique. The opportunity presented a unique and exciting challenge: as the first (and likely the last) motorcycle in the Skyway, what could he accomplish with access to a space designed primarily for foot traffic?
For those who aren't familiar, the Minneapolis Skyway system is the largest contiguous system of enclosed, second-level bridges in the world—composed of 9.5 miles of pathways connecting 80 city blocks. Within these 80 city blocks, Skyway users have access to corporate offices, bars, restaurants, bakeries, hotels, government services, retail, gyms, grocery stores, liquor stores, banks, doctors, dentists, masseurs, pharmacies, hair and nail salons, dry cleaners, live theaters, three pro sports facilities, art exhibits, and even a church. Though the Skyway was initially devised to reroute pedestrians off the increasingly crowded sidewalks and streets, it has become a haven for citizens of Minneapolis from the inhospitable winter weather.
Whether it was riding an escalator like a treadmill, or hitting speeds of 74 miles per hour, onlookers couldn't help but stop and stare at the unusual action throughout the skyways and adjoining buildings of downtown Minneapolis.
Colton has built a storied career around his custom-built motorcycles that suit the one-of-a-kind skillset he practices. The Electric Alta bike featured in the video is no exception. A traditional fuel-powered bike ripping through the indoor Skyways system would have caused disruption and distraction, but the electric bike enabled a silent-powerhouse for Colton's riding in locations never been done before including onstage at Orchestra Hall, inside the Target Center where he pulled off trick shot, and displayed his technical proficiency in the enclosed courtyard of the IDS Center (the tallest building in the state of Minnesota).
Check out the video in full below.
EBC Brakes' Organic OE-quality FA replacement motorcycle brake pads are manufactured in the UK using high technology eco-friendly brake pad compounds that deliver fingertip stopping power.
View Product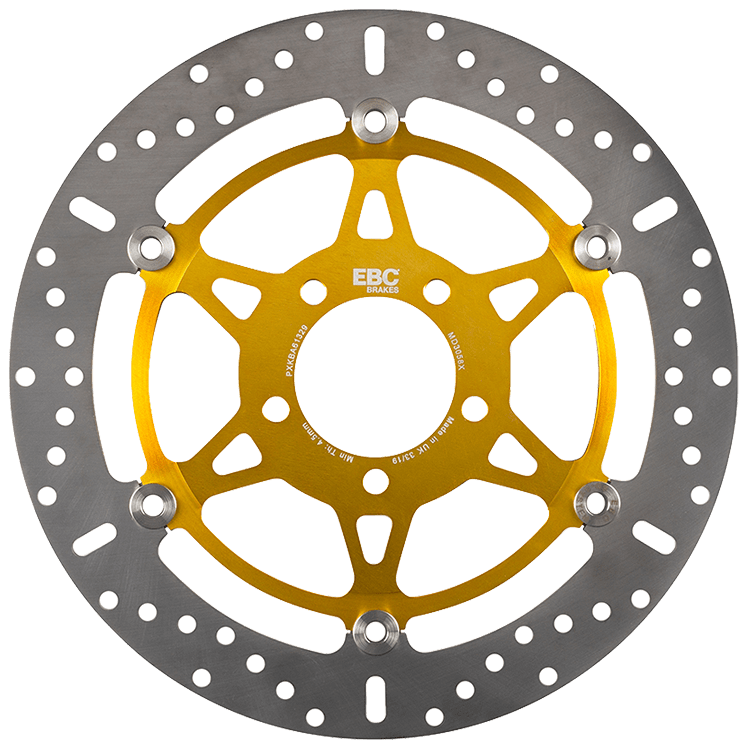 Floating Motorcycle Discs
Since their introduction, EBC's ultra-lightweight floating motorcycle rotors have become one of the world's best selling lightest and best performing discs available for all modern sport bikes.
View Product