The Kawasaki racers recently headed to Leicestershire's Donington Park for the second leg of the series
G&S Racing Kawasaki motorcycle racers, Asher Durham and Jorel Boerboom, are currently competing in the 2023 Pirelli National Superstock and Junior Superstock championships respectively.
Both riders are proudly using EBC Brakes Racing's GPFAX track/race brake pads and X-Series floating discs on their Kawasaki race bikes.
You can read how the second leg of this year's campaigns went down in the team's own words below.
"It was an excellent weekend for Wyberton team G&S Racing Kawasaki when they paid a visit to their local circuit of Donington Park for round three of the Pirelli National Superstock and Junior Superstock championships, where Asher Durham took a fourth and a very close second place in the Junior Superstock races while Jorel Boerboom rode to a solid 20th place in the senior class.
"Despite this only being the second time Asher Durham had ridden the little Kawasaki for the team, he settled in well and was looking promising from the start. But he suffered a small crash during qualifying when he clipped the kerb at McLeans. This affected his grid position as he dropped down the order to 16th and started the first of two races from the sixth row. But as the lights went out, he made a lightning start and made up 11 places to fifth on the opening lap. He then became embroiled in a five-way battle for the lead, moving between fourth and fifth throughout the 12 laps. He finally crossed the finish line in fourth place, missing out on the podium by just a tenth of a second.
"Starting the second race from the second row, Durham got another good start and was up to second place on lap two. He was soon challenging for the lead as the top four pulled clear from the pack. On lap eight, he took the lead at Goddards, but it was still anyone's race with all four riders within a second. On the final lap, the top three rounded Goddards as one, but on the run to the flag, it was Owen Jenner who snatched the win by 0.1s from Durham with Aaron Silvester third just 0.2s later. Durham moves to second in the standings on 70 points.
"Meanwhile Jorel Boerboom had just one race this weekend and completed his qualifying in a much better position in 27th place to start the 15-lap race from row nine. Despite a poor start where he dropped three places to 30th, he soon recovered and began to pick off the riders ahead. By the half-way stage of the race he was up into 23rd place, and when the championship leader pulled out he was gifted 22nd place. On the penultimate lap, Boerboom gained another position and continued on his way to the chequered flag to finish in 20th position.
Team manager Tom Fisher: "Well, we had a difficult start to the weekend with a bike to repair from when Asher crashed in qualifying, but what a weekend for the team! Asher was amazing and it just proves that the Kawasaki is a force to be reckoned with and capable of running at the front. Asher rode very well and has gelled with the bike so quickly. He had to miss the first meeting of the year because his sponsor dropped out, but he has gone from sixth in the championship to second in just two races. Grateful thanks to those new sponsors that stepped up to help us and Asher and also all our loyal sponsors."
"Likewise, Jorel is improving with every race and we made major changes to the bike this weekend which helped him. He qualified further up field and this reflected in his result of 20th. He is getting nearer to a points finish."
The team next take to Scotland's Knockhill Circuit on 16-18 June.
Pics: Dave Yeomans
EBC's GPFAX Sintered Race Brake Pads are for RACE ONLY use. This is a blend of brake pad that has higher friction and far better grip than any other brake product on the market.
View Product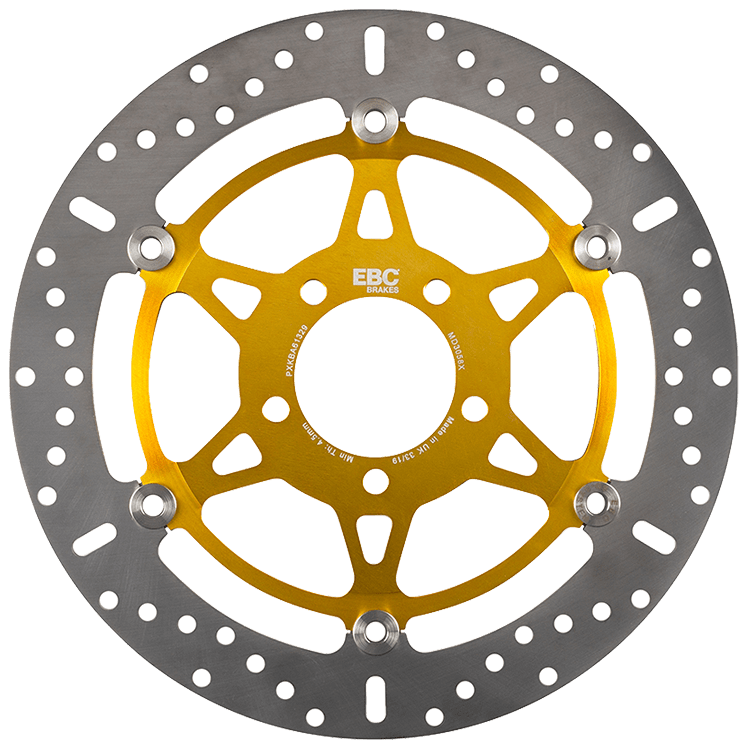 Since their introduction, EBC's ultra-lightweight floating motorcycle rotors have become one of the worlds best selling lightest and best performing discs available for all modern sport bikes.
View Product