EBC-equipped Ford Fiesta racing outfit uses both EBC Brakes Racing's RP-1 and RP-X brake pad formulas
Team Schnell, made up of driver duo Henry Wright and Kevin Glover, are aiming high as they once again enter the MSVT Trackday Championship race series for the 2021 season.
Runners-up in the series' 'D' class for 2020 (max. 125bhp at the wheels per ton), the outfit has now completed its first race of the year at Donington Park Circuit, where its Mk6 Fiesta ST race car featured EBC Brakes Racing's RP-X pads and USR discs up front and Bluestuff pads with plain discs on the rear.
The team tell us how the weekend went down in their own words below.
"Donington Park is notorious for being the hardest circuit on brakes in the UK.

The RP-X pads don't seem to take much effort to get them into their operating window. No locking or change of feel from cold to operating temp which is a step forward from where we were.

From driving the car last time with different rear pads, the braking balance through the whole braking zone felt better with EBC's Bluestuff on the rear. More predictable and less ABS interference. No signs of pad crumble or deterioration either, which we had been seeing with other pads.

We managed to score the Class D pole time by three tenths of a second in qualifying. In the race itself, we managed a third-position finish due to a pit stop time communication issue from the organisers. Without that, we'd have won the class by 15 seconds. That's racing!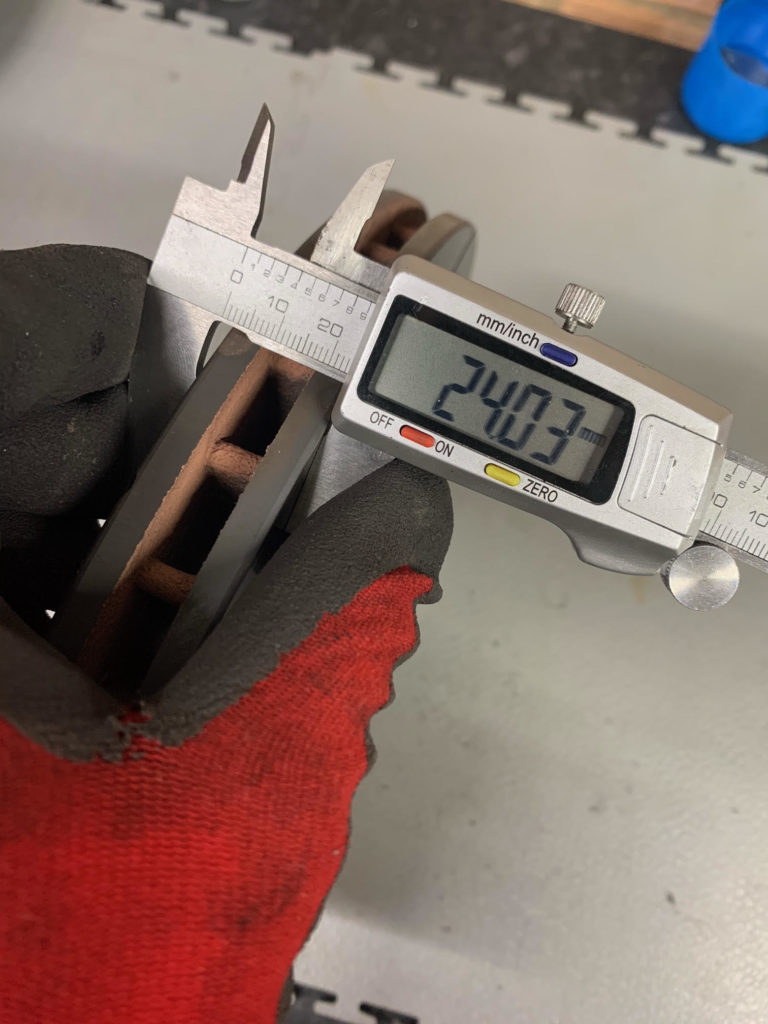 "Our thoughts on the braking system as a whole: modulation and bite/feel was totally consistent throughout the duration of the race, which allowed us to put pressure on competitors into braking zones to the point they made mistakes, but also to the point they exceeded their own braking setups' capabilities. Lots of reports of fade and boiling fluid from competitors, as seen in the video below.

Pad wear rates (see below) were very impressive; very little/zero pad wedging which is amazing given the single-piston slider brake setup. Discs currently showing very little scoring and zero wear across the diameter. No discolouration or blueing of the faces either, which we had been seeing with other products. Zero 'glaze', zero pad material transfer.

We are super confident with our current setup based on the performance and the results achieved.
Saturday presented the team with four gruelling 50-minute sessions throughout the course of the day, with the final session not beginning until 9pm! But by sticking to the plan, Jim and co-driver James Ayre built up a solid lead, taking an entire lap out of the rest of the competitors in each of the first two sessions.