Northern Irish race veteran tried the high-performance friction material in his race/driver training vehicle
The name Martin Donnelly will be familiar to the majority of self-respecting motorsport enthusiasts in Britain, following the Northern Irish driver's foray into Formula 1 back in 1990 in the distinct Camel-liveried Lotus. After his stint in F1, Donnelly continued to pursue a successful career in the industry, becoming a development driver for Lotus Cars, as well as racing in works Nissans and Jaguars for Le Mans.
More recently, Donnelly has focused on his driver training business, Donnelly Track Academy, where he shares his impressive skills with those hoping to develop their competitive driving careers.
He also occasionally competes in the Lotus Cup UK Speed Championship series, alongside his son, Stefan, as well as the MSVR Elise Trophy series.
Donnelly recently tested EBC Brakes Racing's RP-X™ track/race brake pad in his Lotus Elise 1800 championship race car and was very positive with his feedback.
RP-X™ possesses an extremely high friction level of 0.55mu between 0 – 850°C and achieves 100% brake effect from cold. This makes it an excellent choice for everything from track days through to competitive sprint racing or hill climb events, where full brake performance is essential without requiring any 'warming up'.
Martin's feedback can be read below in his own words.
"The bedding-in process was very good – it didn't take more than a lap and a half for the brakes to be leaned on into the hairpins etc.
"I used a gradual progression of heat build-up on the straights, eventually applying into the corners too.
"Compared to other compounds I've used on the car, these are simply the best. The wear rate is very good. The feeling and performance, especially in wet conditions at this circuit, were exactly what I was looking for.
"Good, progressive feel from the brake pedal allowed me to trail brake all the way into the apex of the corner without getting any grabbing or lock-up.
"The brakes now inspire confidence; braking later into corners especially in the wet conditions allows me to carry more speed from initial braking to the apex, thus gaining more time on our V-Box data system.
"The brakes produce no noise or judder when in use."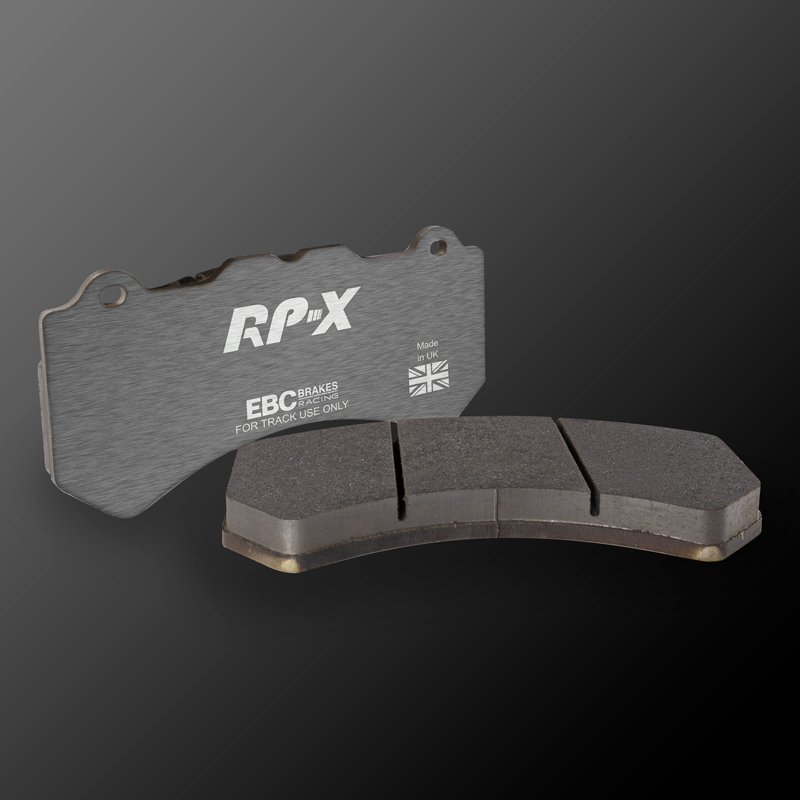 Following the hugely successful launch of RP-1™, EBC Brakes Racing increases its motorsport brake pad range with the introduction of our latest ultra-high-performance track & race material, RP-X™.
View Product