Luke Rosewell uses EBC Brakes Racing's RP-X pads on his Civic Type R, which have proven hugely successful
The fourth round of the 750MC Type R Trophy saw a return to Silverstone Circuit, this time on the International layout of the track.
Luke Rosewell is one of the front-runners of the series, currently using EBC Brakes Racing's RP-X track/race brake pad compound in his EP3 Honda Civic Type R race car.
It was another successful weekend for Rosewell, as he explains in his own words below.
"We returned to Silverstone for Round 4 of the championship, but this time on the International circuit.
"Practice went well and we had really good pace. We tried a few different things with setup and found a good place to go into qualifying.
"During qualifying, we were struggling to keep the front tyres from overheating after two push laps. We had done our best time of the weekend so far, putting us in provisional P2, and with little front grip left, we pulled in to avoid further abuse of the tyres and brakes.
"In the final minute of the session, we dropped to P3 by 0.05 seconds.
"During Race 1, we struggled a lot for front grip, allowing 4th place to close onto our bumper. No matter how hard he tried, we couldn't be out-braked anywhere, so 3rd place was held relatively comfortably.
"Throughout the day there were many small rain showers, one of which came just before the second race. Knowing we didn't have the grip and pace to fight for the win in a dry race, we gambled with wet tyres and wet setup. With a short delay, the track was almost dry as we pulled onto the grid. There were still dark clouds and a shower due any minute."
"We managed to move into 2nd on the first lap after a mistake under pressure during braking for the leader.
"Unfortunately there had been an accident on the start line further down the field. This brought out the red flag and a further 20-minute delay, which allowed the track to completely dry. From the restart we struggled straight away with the car not wanting to turn at all. A large queue of cars was forming behind, but again our braking performance was so good, nobody could get past.
"Eventually, 4th place made a very late lunge but went too wide going into the chicane. As I switched back to pass him on the exit, he slowed us both up and 5th place managed to get past both of us. I was now in 5th, with 6th on the inside into the next corner. I was able to hold onto 5th under braking and get back onto the bumper for 4th. The next lap into the tight hairpin under brakes, I retook 4th. By this time, 3rd place was too far up the road and I had to solely focus on holding 4th place.
"It was probably my busiest race of the year, and with a car not set up correctly for the conditions, I would certainly have finished a lot lower down the order had I not had better brakes than the other cars.
"We ended the weekend with a 3rd and a 4th place, further cementing the 3rd position in the championship for now.
"I would like to thank EBC Brakes once again for their great products and support."
All Images courtesy of Jonathan Elsey Motorsport Photography
Bluestuff NDX is a high friction sport and race material that now has R90 approval on some fitments for the EU. For USA and Asia markets where R90 does not apply, this compound is totally road safe and the perfect choice for performance vehicles driven hard on the road or trackdays.
View Product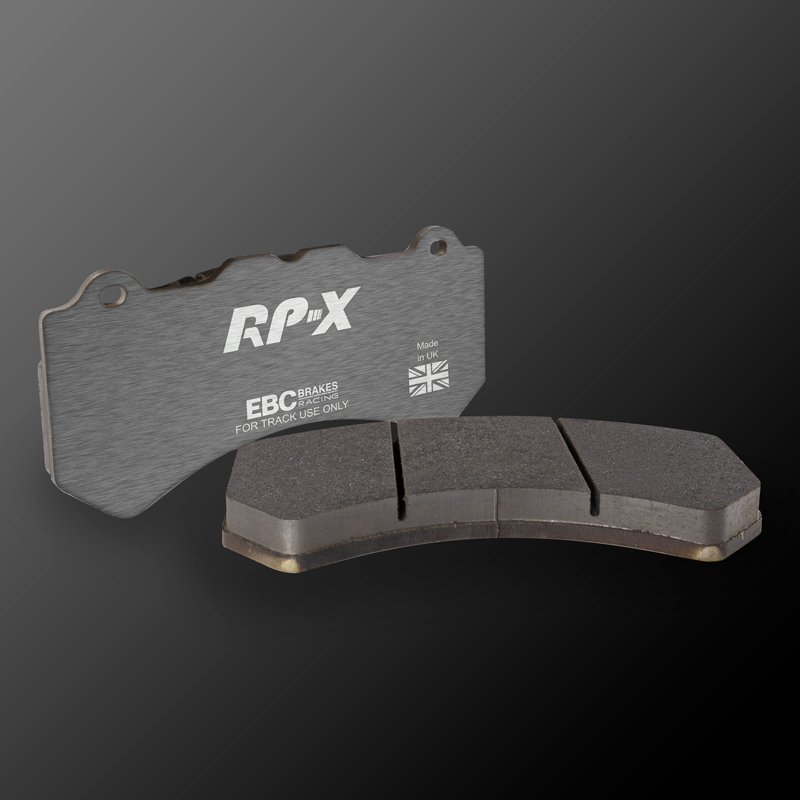 Following the hugely successful launch of RP-1™, EBC Brakes Racing increases its motorsport brake pad range with the introduction of our latest ultra-high-performance track & race material, RP-X™.
View Product