EBC Brakes Racing Launches 'Track Pack' to Help Monitor Braking Performance
Discover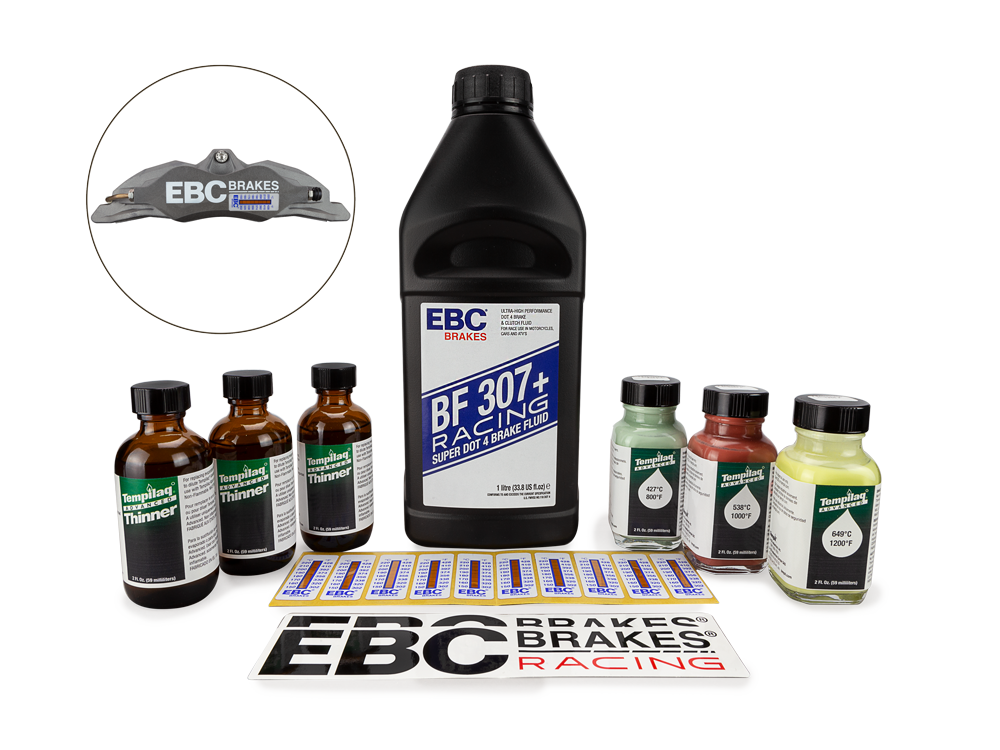 Kit contains racing brake fluid, disc heat test paints and caliper temperature strips
KEEP YOUR BRAKING IN CHECK
It goes without saying that braking is one of the most crucial aspects of a vehicle's performance – especially in high-speed track environments, therefore EBC Brakes Racing's new Track Pack is the perfect solution, allowing you to monitor your brake temperatures to maintain optimal performance (click here for more info on this).
WHAT'S INCLUDED?
Each EBC Brakes Racing Track Pack contains:
– BF307+ Ultra High-Performance Super DOT 4 Racing Brake Fluid (1L)
Our BF307+ high-performance Super DOT 4 brake fluid has been specially formulated to provide outstanding performance for braking systems routinely operated at extreme temperatures, making this fluid ideal for fast street, track day and racing use.
– Caliper Temperature Strips (x10)
To be applied to the outer edge of your brake caliper to provide a quick and easy real-time reading of the caliper's temperature without the need to remove the wheel first.
– Disc Heat Paints (x3) & Applicator Brush
Quick-dry formula paints which can be applied to any surface and are designed to melt away at the designated temperature. Supplied with thinners to dilute or replace evaporated solvent. Superior accuracy to +/-1%.
– 1 x green temperature paint – up to 427℃ / 800℉
– 1 x orange/red temperature paint – up to 538℃ / 1000℉
– 1 x yellow temperature paint – up to 649℃ / 1200℉
Also contains x3 bottles of temperature paint thinners for easy removal of heat paints.
– EBC Brakes Racing Stickers (x2)
GET YOURS
To order this kit quote TP001 to your stockist or buy online
To find your local EBC Brakes stockist, please click here.
Can't find what you're looking for?
The EBC Brakes team is always happy to help. If you can't find what you're looking for, please don't hesitate to get in touch via our Contact page. But be sure to check our FAQ's first, in case your query has already been answered.
Contact EBC
Part Finder