EBC Brakes Pad Backplates are secured with NRS Hooks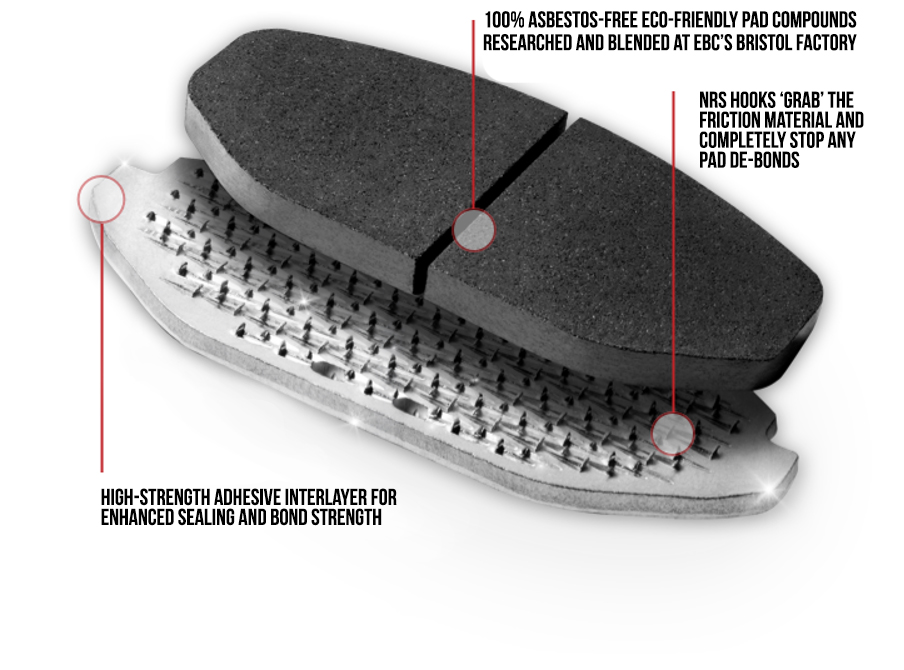 100% asbestos-free, eco-friendly pad compounds researched and blended at EBC Bristol
High strength adhesive interlayer for enhanced sealing and bond strength.
NRS hooks "Grab " the friction material and completely stops any pad debonds.
NRS is the trademark of Nucap Industries in Canada and is used under a license from them. NRS stands for Nucap retention system which is a process to form up-turned bi-directional crescent-shaped projections standing on average 1.0 mm above the backing plate formed by an elaborate pressing process. EBC have built their own presses and tools in conjunction with and under the supervision of Nucap to ensure a perfect process at its Northampton pressworks facility.
The projections or hooks are thereby integrally built into the pad to plate contact area during molding and form a massively secure bonding of the friction material to the backing plate.
Tests have shown that the shear strength of the pad to friction bond is increased by up to 6 times using NRS.
EBC also spray coat heat-activated glue onto the backing plates in all nonstainless backing plates used in the manufacture of EBC pads to seal the surface, increase bond strength even further and prevent interlayer corrosion.
Friction material debond is a thing of the past with NRS and EBC.