The team's E46 BMW M3 achieved second in Class 5 thanks with the help of an EBC braking setup
Nichols Racing is not new to the American Endurance Racing (AER) series but hasn't had much luck finding a good solution for their braking needs in recent years. EBC Brakes Racing saw this as an opportunity to show that its Apollo Big Brake Kit is not only capable of surviving the high demand of multiple eight-hour races, but excelling at it.
The vehicle of choice was the tried-and-true BMW E46 M3, with simple modifications to make an effective and reliable package. Knowing it was more than likely going to be a wet weekend at Pittsburgh International Raceway, the team chose to run EBC Brakes Racing's SR-11™ sintered endurance race brake pads in the front, with RP-1™ track/race pads in the rear, to help keep the bias front-heavy.
Endurance racing is always a great platform for testing out how a brake package works, as you typically get multiple drivers and loads of time for feedback/data. In this case, the team was made up of five drivers: Jim Vanzant, Randy Barnes, Rob Stahl, Chase McIntyre, and our very own EBC Brakes USA employee, Preston Lapping.
After a couple of shakedown laps to feel out the newly built car, the immediate feedback was that of relief of finally having the stopping power and modulation they had been looking for. The SR-11™/RP-1™ combination was very controllable, with great modulation for threshold braking even in wet conditions on rain tires. The last day of the event really let the team shine as weather broke and the race was mostly dry, allowing them to put the EBC Brakes Racing package to the test while carving their way through the field. While the stopping power is immense, the modulation and pedal feel was equally as impressive with a very linear response to pressure-in/torque-out.
Keeping an eye on the brakes to see how long the team could go, they ended up putting around 20 hours (around 1100 race pace miles!) on a single vehicle set without any issues. Initial wear measurements are showing around 1mm of wear from each of the pads and rotors that look ready for many more laps. The pedal felt firm and communicative from the first turn to the last.
Nichols Racing overcame some last-minute preparation challenges to place 2nd in Class 5 and take home their first AER podium. EBC Brakes Racing is excited to continue its support of Nichols Racing and their journey to more podiums.
Jim Vanzant, car owner/driver was all smiles: "I'm so happy; the car is so balanced and easy to drive. We can out-brake anyone anywhere… if you go in too deep, you know you have the brakes to pull you back out of it. It has been the most enjoyable racing that I can remember."
SR-11™ Sintered Endurance Race Brake Pad
Medium-friction compound targeted for front of street-base endurance race cars where high ABS effect exists on the car, or for the front and rear of race cars with bias controls.
View Product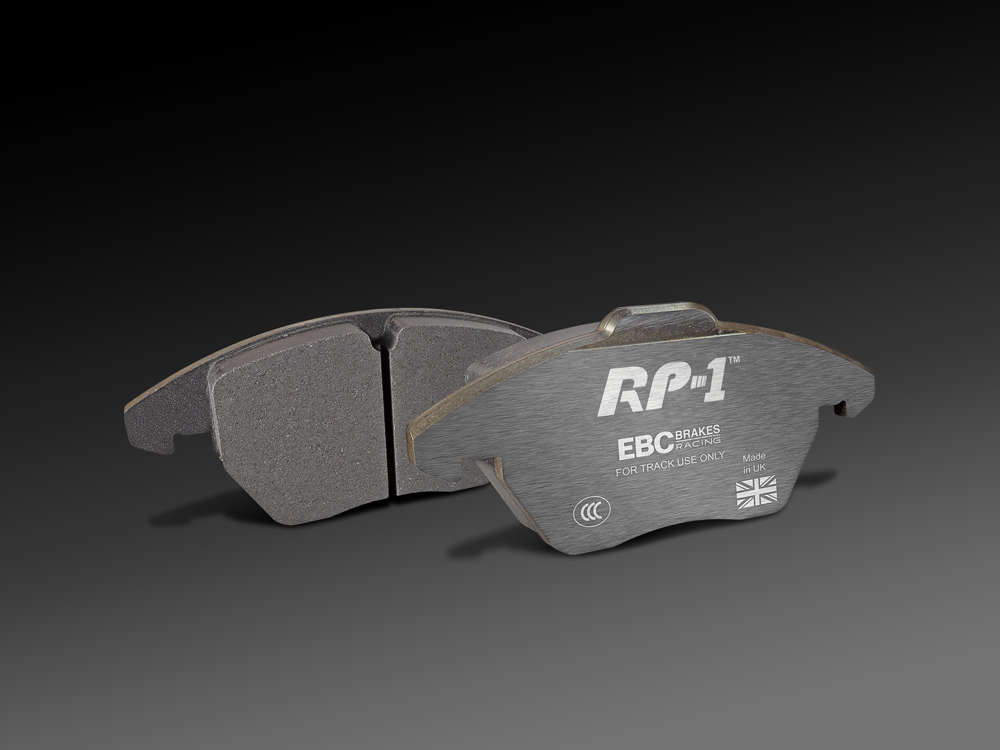 RP-1™ Track/Race Motorsport Brake Pads
Pairing high performance with unprecedented modulation and control, resulting in a track pad that feels uniquely different to the competition and allows drivers to extract every last tenth from every braking zone.
View Product