Austin Phipps flourished at the competitive drift event held at the scenic Pikes Peak International Raceway
Austin Phipps of the Mulletsport race team is a professional drifter, currently using a modified 2012 Audi S4 with manual transmission and rear-wheel drive conversion in various drift series across the USA.
Phipps uses EBC Brakes' Yellowstuff pads on all four corners of his drift car, as well as GD Sport Rotors all-round.
He recently headed to Pikes Peak International Raceway in Colorado Springs, where he competed in the incredibly popular Gridlife Alpine Horizon event.
Phipps was once again impressed with his braking setup's on-track performance, as well as its versatile ability to act as the perfect street setup, too, as he explains in his own words below.
"I had written off this event as the build of my car wasn't progressing quick enough. When my amazingly supportive team pushed me to make the event last minute, though, we got to work.
"In 1.5 weeks, the car was completely stripped apart. We tore the engine down to the block and heads. Everything was replaced: injectors, pullies, water pump, thermostat, supercharger. We knew if we were going to go, we had to represent well!
"While the supercharger was off, we sent it out to a local shop – Vast Perfromance AZ – to have it ported, upgrading the fuel pump to keep up with E85 fuel, too. We stripped the AC out of the car and completely re-did the cooling system, building a custom three-pump water-to-air intercooler system. The interior was also completely removed and a Sparco race seat was installed.
"JXB supplied us with an upgraded shifter while we were in there. Working with Yellow Speed Racing, we installed three-way coilovers on the car. It came down to the wire wrapping up the car. We even changed the oil on the trailer just before leaving – not the way I like to prepare for an event! The support behind me and knowing I could bring it all together was the energy we were running on. 
"We made the 14-hour drive to Colorado. First in line, we were first to set up our pit. We unloaded the car and passed tech with no issues. We cracked open a cold one and relaxed for the first time in almost two weeks. All the late nights and rushing around was about to pay off. Of course, relaxing didn't last long when I knew there was always something to do. So we got to work again installing underglow on the car knowing four sessions out of the weekend were at night."
"On Friday morning we warmed up the car and went out for the first session. This was the first time driving a completely new car. We took over 400lbs out of the car, Added 80hp, went from a 245-profile tyre to a 265-profile, and added completely new coilovers. Yeah it wasn't a great session… the car wasn't reacting correctly and lacked side bite. 
"Throughout the day we made changes. Every change was noticeable. This new chassis is completely different from my B5 S4 drift car; way more forward drive, and the steering is light and crisp. Power delivery is crazy linear. Late Friday during the last session, the clutch pedal started getting sticky. We were so stoked to have the car out ripping laps with no issues we ended the day. Waking up Saturday, we had a team meeting. My team decided it was worth missing some morning laps knowing rain was coming, throwing another curveball at us for setup of the car to swap the clutch. My plan was to install an upgraded clutch before the event, but we just ran out of time. So we threw the car up on jack stands and dropped the transmission. After replacing the clutch and a quick trip around the paddock. We were back on track. We dropped tyre pressure and made a shock change to really hook up the car. It really came around – hitting over 80mph on entry, the car was working well! 
"We drove Friday to Sunday with no major issues. I was exhausted, but this was just the beginning! We loaded up the car and headed for Formula Drift Utah for round seven of the season. While building and driving my Audi S4 drift car. I am also the crew chief for Michael Essa's Pro BMW M3. Rolling into FD on Wednesday, I unloaded the car off the trailer for display in the Throdle booth. After unloading the car, I heard we were going to Ken Block's shop in Utah. So, I put the plate on the car and we drove over 100 miles through the hills of Utah with the car. Saturday afternoon, I was able to rip some laps in the demo area. What an amazing two weekends of racing! From track drifting to street driving, the brakes offered instant bite. Confidence in the braking allows me to drive the car to the limit every run!"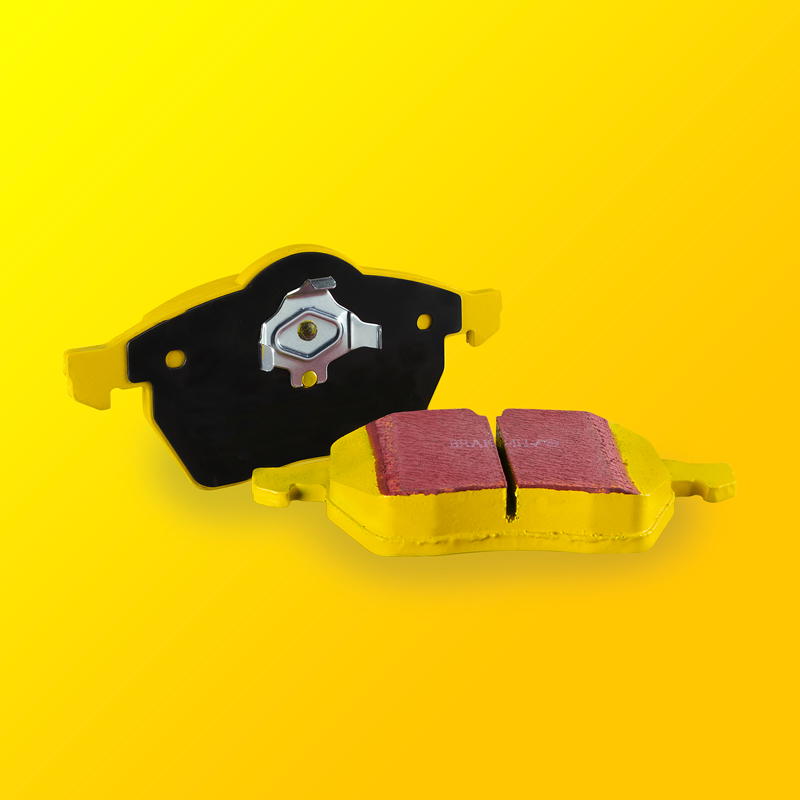 A true winner all-round. It has high friction from cold, not requiring warm-up for street use yet when hot, the brakes just get better. High efficiency performance and race brakes for track and street use, fast to bed-in, great for street vehicle brake upgrade.
View Product
All EBC rotors including USR Slotted Rotors are British made and are precision machined in the UK. Rotors are made from high quality grey iron to exacting standards and undergo extensive testing and rigorous quality control.
View Product