Team Redmist's Stuart Egdell had another rollercoaster of a weekend in his Nissan Silvia
Stuart Egdell is competing in the Pro 2 class of the British Drift Championship [BDC] for 2022.
His Toyota 2JZ engine-swapped Nissan S14A Silvia features EBC Brakes' Yellowstuff pads and GD discs.
You can read how Egdell's most recent round at Middlesborough's Teesside Autodrome unfolded in his own words below.
"We were back up at Teesside for round three of the BDC. This time, the circuit ran in reverse (my favourite way) and, amazingly, it was another event with the weather gods on our sides!
"For Friday's practice, I fine-tuned the track, pushing deeper into clips, and occasionally losing a panel or two! Working with my team, we made fine adjustments to the suspension and alignment, adding a bit more grip and a little more steering input into the front, pushing hard towards the end of the day going faster and faster. I eventually found the limit a little too fast and ended up mounting the tyre wall on clip 2.
"A hasty repair and a good once-over from the team led us into lunch. It turned out I wasn't the only person that took a liking to the tyre wall; a fair few other driver had pushed hard finding the limits (and the grass bank, tyre wall, concrete etc), meaning the track management team and the judges decided to make some changes on the grounds of safety.
"The changes included a shorter run up, clip 2 being moved inside the track, and a wheel marker for the transition to clip 3. After a few laps in, I was fairly comfortable with the new layout. I spent the last part of the session doing some leads, some chases and a few panel loosening exercises to the point where I was happy, comfortable and confident, so it was time to pack up, get some food and a good rest for the main day!
"The fans arrived early on Saturday morning. Glancing over during the drivers' briefing, I could see people getting their spots on the bank, setting up their deck chairs and picnic blankets.
"We started the practice session well – still fresh from the day before, we continued where we left off. I got some really good lead runs, some close chase practice and really close fun with good friends and solid drivers in my class. One good friend in particular who made his big return for this round – Mike Jackson (who was driving amazingly all weekend) – pushed hard and chased very close, and then we had a little contact that unfortunately for me bent a steering arm. This is all part of drifting and the sport; we don't aim to crash into each other, but sometimes the contact happens!
"Back in the pits, the team had the steering off and I went on the hunt for a replacement, one of the biggest things I love in drifting is the people, the amount of people that had spares that were willing to lend me to get back out makes the sport what it is!
"After a bit of hammer action and some quality work from the team, the car was straight and ready for action again. With qualifying starting soon and limited time in practice left, I needed to get out and make sure the car was back on point and my driving was back where it should be. The first lap or two in, I had noticed some understeer issues and I wasn't 100% with the steering alignment, however as I only had a few laps left I insisted on pushing on getting most out of practice."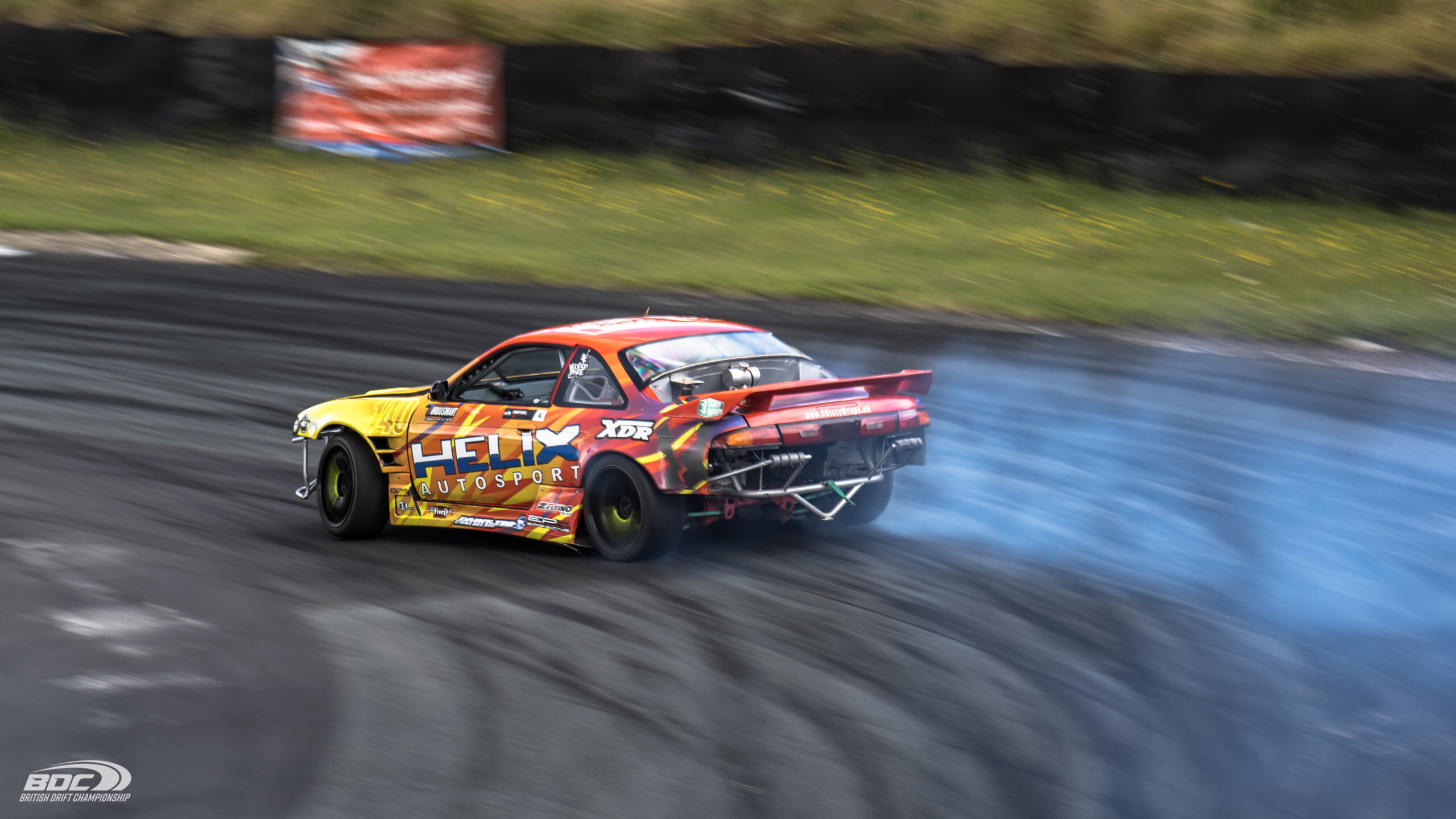 "Then it was qualifying. Run 1 didn't go to plan; that understeering issue I mentioned came back, with a solid entry and push through clip 1 and 2, on the transition I didn't have the control to set me up where I wanted for clip 3, and a straighten gave me a 0.
"For run 2 – the final qualifying run – I had it all to play for! I gave it my all, with a good entry, solid through clips 1 2 and 3, slightly shallow on 4 and a bit deep on 5. The run was good, I breathed a sigh of relief and was over the moon, then it was just the wait to find the score to see how I'd done and where I sat in the qualifying order. The judges' scores came in… an 84-point run! That was me through to the top 32, and after all the scores came in, it put me in Q14!
"Onto the top 32, my battle was against Harvey Moore. This was a bit of an unknown to me; I don't think I'd had much time out with Harvey before and all I knew was his car had some pace and he was celebrating his birthday! We lined up, Colgate gave the nod and we were off. My entry was solid but with the grip in the car, it pushed me slightly inside on clip 2. Past the transition towards clip 3, I was on the wrong line completely and tagged the tyre bales with the front bumper, pulling my crash bar into the lead wheel jamming me on full lock and then into a spin. Harvey brushed straight past me and then had complete suspension failure.
"Harvey's team worked some miracles and he made it back out on track for the second half of our battle. With the first run looming in my mind, I didn't push as hard as I should, Harvey carried a brilliant pace and took the win, which spelt the end of my weekend.
"However, on the Sunday, Dave Egan of Drift Games had an unfortunate clutch failure in his Corvette, essentially knocking him out of the competition, with me being confident in the car and wanting a pro driver's opinion of how it drove, it made sense to offer the car up to Dave, not to mention the amazing amount of publicity Drift Games gave us.
"Dave did amazingly well in a car he only had four laps in; he put in a solid qualifying run, scoring 76 points getting him the big show! Dave did really well driving the car, but his party stopped at the first battle as Charlie Hulme progressed further."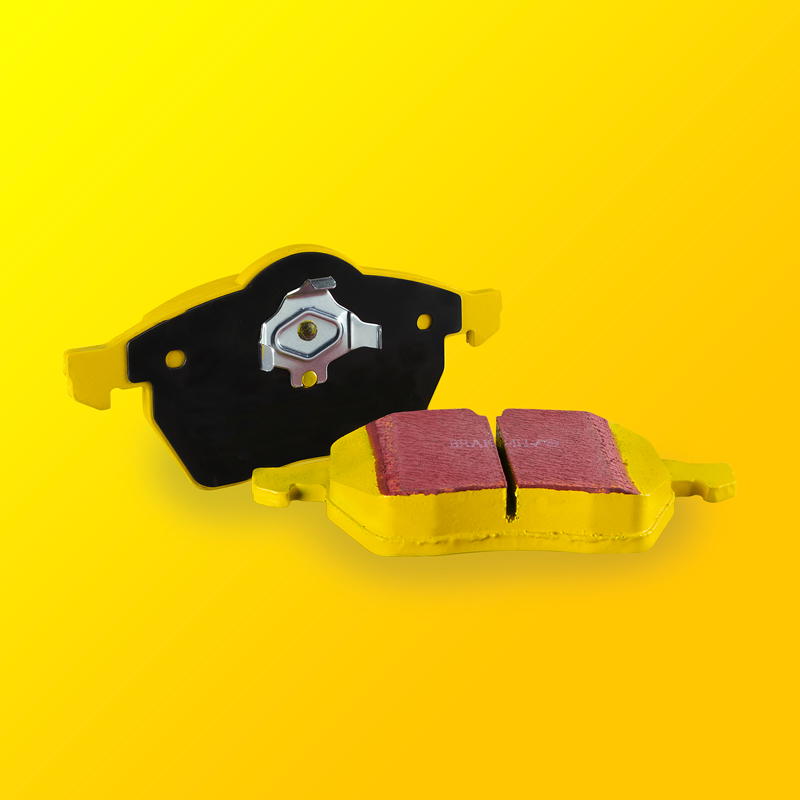 A true winner all-round. It has high friction from cold, not requiring warm-up for street use yet when hot, the brakes just get better. High efficiency performance and race brakes for track and street use, fast to bed-in, great for street vehicle brake upgrade.
View Product
All EBC rotors including USR Slotted Rotors are British made and are precision machined in the UK. Rotors are made from high quality grey iron to exacting standards and undergo extensive testing and rigorous quality control.
View Product