Luke Rosewell uses EBC Brakes' Bluestuff and Yellowstuff pads in his Caterham Supersport
Throughout 2021, Luke Rosewell used EBC Brakes Racing's RP-X™ pads in his EP3 Honda Civic Type R that he used to compete in the Type R Trophy, eventually securing an impressive second place overall at the end of the year.
For 2022, Rosewell has transferred over to the Toyo Tires 7 race series in his newly-acquired 2008 Caterham Supersport. The car features EBC Brakes' Bluestuff pads on the front axle and Yellowstuff pads on the rear.
The first race of the year was held at Derbyshire's Donington Park recently, where Luke showed plenty of promise despite a lack of practice in the lead-up to the event.
Luke explains how the weekend unfolded in his own words below.
"Donington Park was the host of Round 1, using the National circuit layout. On Friday, we only managed to get booked onto two morning sessions to test before the weekend, due to session availability.
"We weren't in the 'Caterham' group, so traffic was bad, and we had no idea on pace due to not being on track with anyone we were going to be racing!
"The first session was used to just get back up to speed with the car and track, and even with the very low temperatures (approximately 4°C!) we still managed to set our best time we've recorded around Donington National.
"Session two was used to bed in a new set of pads and a pair of tyres ready for qualifying the following morning. The brakes came in very quickly, despite the cold conditions, but then the red flag was shown, and that was the end of the day.
"Coming into qualifying, we didn't know how fast we could really go with four new tyres, as we had never had the opportunity to try them. Without knowing who would be quick, we ended up just trying to do our own lap and not chasing a tow. We ended up getting caught in a group that we were comfortably quicker than, which meant we weren't able to get a tow around the whole lap.
"This was a big disadvantage, as we were often up on our best time, only to catch the group of cars before the end of the lap.
"In the end, we managed P4, but our 'ideal' lap time was quite a lot under the pole time, so we were very happy.
"In Race 1, we had a good start and settled into the leading group. In what was one of the most frantic races I've competed in for many years, we were happily sat in 4th place, letting the chaos ensue around us. We found our way up to 3rd, and with a move getting our nose into P2, we were lost out in the tow, so we slotted back into 3rd. All of a sudden, we were facing backwards down the flat-out Craner Curves, and then heading towards the wall. We managed to scrub enough speed off, and keep the wheels away from the wall, but unfortunately the head on impact punctured the radiator, so we were out of the race.
"Back in the paddock, we assessed the damage, and it didn't look good. We were then summoned to the Stewards to decipher what happened. The following car, who made contact with us, was given a time penalty to add to his race, but unfortunately it didn't help us. We were left with a big damage bill, and a P23 starting position for Race 2.
"Race 2 was the following day and we managed to get the car back ready to go (just about!).
"We were starting dead last and had 25 minutes of racing to make our way back through.
"We had a good start and managed to climb up to 14th by the end of the opening lap. By lap 5, we were in 6th, and a couple laps later, we were up to 5th. As is the way with Caterham racing (or so we have found out this weekend), the tow is everything!
"The top three were well clear at this point, and 4th was in no-man's land. We spent three laps closing down 4th place by a second per lap, dragging along a group of cars behind us. Just as we got within touching distance, I locked up into T1 and went wide. This dropped us to 6th, and right back into a group of cars. From this moment on, we were in a fight from 4th to 10th place.
"We fought hard to stay towards the front of the group, but with our older spec car, we were 10bhp down, and ran out of revs and gears while in the tow. This meant we had to make up time and positions on the brakes, which we did on a number of occasions. Not once did I feel like I lacked braking performance to anybody else on track, and they never faded.
"We only managed P8 in the end, but considering our starting position, we were happy enough with the result.
"Overall, it was a tough weekend and we learnt a lot in a short space of time about Caterham racing. We now know where our advantages and disadvantages lie with our older car, and the EBC Brakes give us heaps of confidence to make the moves when we need them. Knowing we can go for 30 minutes, in the tow of other cars, and the brakes don't even hint at fading also puts us in a great position for later in the races.
"We now have three weeks to repair the car properly, ready for Brands Hatch GP. Hopefully we can put everything we learnt from Round 1 into fighting for a podium at Round 2."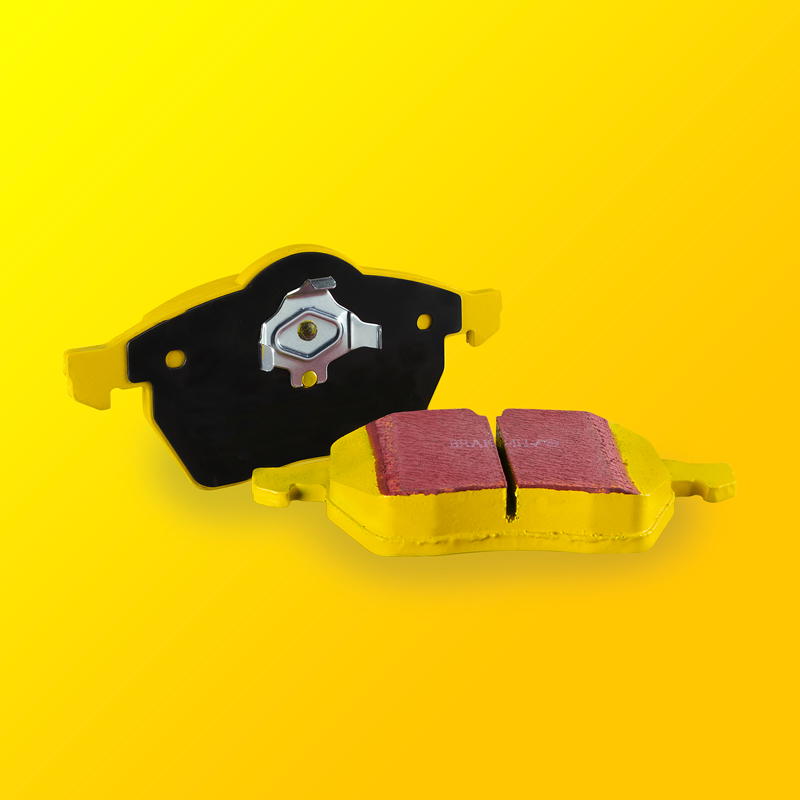 A true winner all-round. It has high friction from cold, not requiring warm up for street use yet when hot, the brakes just get better. Yellow has been our best-selling fast street pads for over a decade but takes a little longer to bed in on the track and if used only for racing or track days, the Blue grade might be a better choice.
View Product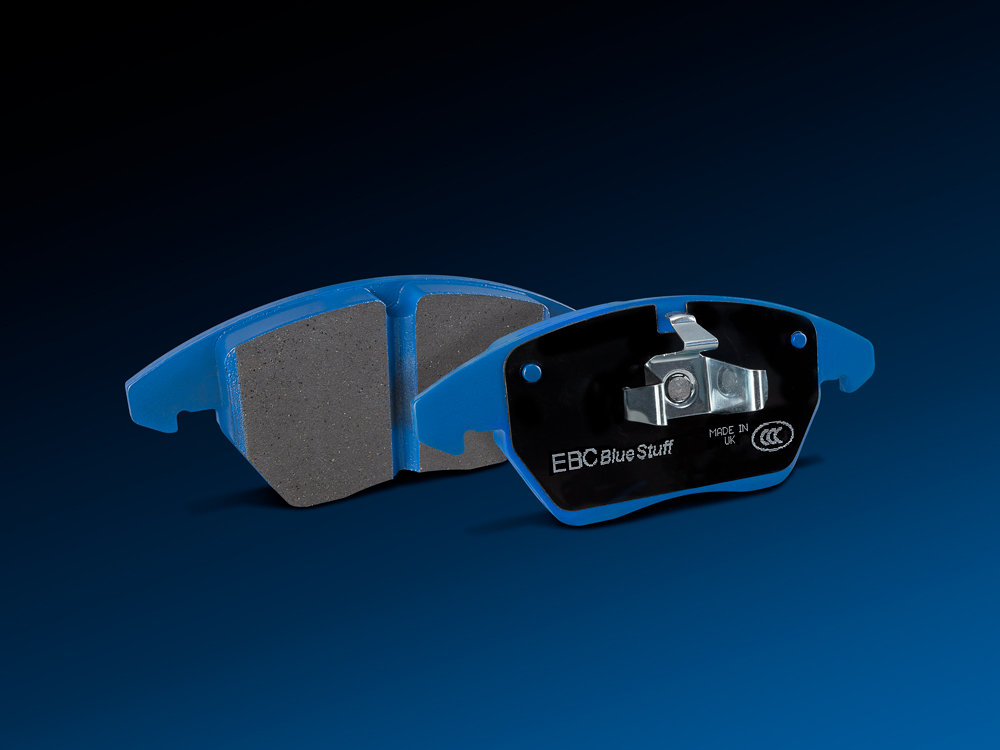 Upgraded in 2021 to a new version that lasts longer and beds in super-fast, Bluestuff is now available in the NDX version at 0.52 friction or the new lower friction Bluestuff B grade at 0.42 where a little less aggressive brake is required on some rear fitments or lighter cars.
View Product