The trio of Team Hardline drivers are all sporting EBC Brakes Racing RP-X™ brake pads
Team Hardline is a newly established racing outfit that's taking part in the 2023 season of the Caterham Seven 270R Championship with three talented drivers: Charlie Lower, Louise Deason and David Rooke.
The team is using EBC Brakes Racing's RP-X™ motorsport brake pads on the front axles of all three Caterham 270R race cars, as well as EBC Brakes' Bluestuff pads (David and Charlie) and Yellowstuff pads (Louise) on the rear axles.
As the 2023 season reaches its final few races, the roadshow recently headed to Norfolk's Snetterton Circuit for the penultimate round, where more success was achieved by the team.
You can read how it all went down in their own words below.
"The penultimate round of the highly competitive 270R Caterham Championship took place at the renowned Snetterton Circuit, showcasing intense battles and remarkable performances from the Hardline race team. With the team's drivers displaying their prowess throughout the weekend, the Snetterton event proved to be a thrilling spectacle of skill, determination, and heart."
Qualifying:
"In the qualifying session, the Hardline race team demonstrated their potential on the track. Charlie, David, and Louise put their 270R Caterhams through their paces to secure favourable starting positions. Charlie's impressive performance earned him a well-deserved second-place starting position (P2), setting a strong foundation for the races ahead. David secured the eighth spot (P8), despite nursing a broken thumb from the previous round at Thruxton. Louise locked in the seventeenth position (P17), poised to make her mark in the upcoming races."
Race 1:
"Race 1 proved to be a defining moment for the Hardline race team as they showcased their determination and skill. Charlie's exceptional pace translated into a dominant performance, allowing him to clinch the top podium spot (P1). David's commendable driving while nursing his injury earned him a respectable third-place finish (P3), showcasing his ability to navigate challenges with finesse. Louise, honing her racing craft, engaged in intense battles and fought her way to a commendable fifteenth-place finish (P15)."
Race 2:
"Race 2 added another layer of excitement to the event, with Hardline race team drivers demonstrating their mettle once again. Charlie led the pack with remarkable consistency until the final lap when an audacious move from another driver led to a collision. However, Charlie's quick reflexes and auto test skills allowed him to regain momentum swiftly, ultimately securing an eighth-place finish (P8). David's strategic approach paid off, as he maintained his focus while trailing the lead group, resulting in another impressive podium finish at third place (P3). Louise, engaging in intense wheel-to-wheel battles, displayed her determination and claimed the seventeenth position (P17)."
Race 3:
"The final race of the Snetterton round witnessed the Hardline race team's drivers continuing to push their limits. Charlie's remarkable start catapulted him from eighth to second place (P2) by the second corner, setting the stage for another spectacular victory. With exceptional driving, he crossed the finish line in first place (P1) yet again. David, recognizing the importance of points for the championship, drove a controlled and strategic race, securing an eighth-place finish (P8) despite battling arm cramps from driving one-handed throughout the weekend. Louise's relentless determination saw her gain back positions lost in the previous race, resulting in a hard-fought fifteenth-place finish (P15), nearly clinching the fourteenth spot."
"The Hardline Race Team's impressive performances weren't confined to the 270R Caterham Championship alone. Zach Lower, representing the team in the Reedsport category, showcased his exceptional skill and car control. Achieving fourth place (P4) in qualifying, Zach's true speed was evident as he engaged in intense battles in race 1 and secured a remarkable fifth-place finish (P5), a mere 0.012 seconds from P4. Race 2 highlighted Zach's outstanding racecraft and decision-making, leading to a well-deserved second-place finish (P2), marking his inaugural podium in the Roadsport class.
"As the Snetterton round concluded, the Hardline race team celebrated their achievements and looked ahead to the next challenge at Donington Park. With a roster of skilled drivers and a spirit of unwavering determination, the team is poised to continue their impressive run and leave an indelible mark on the 270R Caterham Championship."
"Something clicked at Snetterton and I finally managed to secure that illusive podium! All weekend my pace was generally feeling strong but my biggest advantages were into the heavy braking zones on the circuit, where I always felt I was able to get late on the brakes and trust that I'd always have a good pedal under my feet, leading me to P5 in Race 1 and P2 in Race 2, my two best results this year."
– Zach Lower
"Racing with a broken thumb, Hardline Motorsport has had an amazing run in its first year and with the potential for its drivers to both finish in the top 3 overall what might normally have been a season ending injury turned into more dedication. David returned to Snetterton with a pinned and plated thumb and got a 3rd place podium and out scored his championship rivals to keep the top 3 finish alive."
– David Rooke
"After a fairly awful qualifying, I decided to try and enjoy the first race to get myself back in the game. I saw my times and finish positions improve over the weekend and after a red-flagged start, had a great final race which was a battle with another car the whole way. The pace is definitely there, so looking forward to the final showdown at Donington and hopefully an elusive top ten finish!"
-Louise Deason
"Great haul of points this weekend – me and the car had great pace all weekend securing 2 first place finishes and with an unfortunate turn of events in race 2 with someone T-boning me we still managed to close the gap to my championship rival and it is all still to play for at the last round at Donington."
– Charlie Lower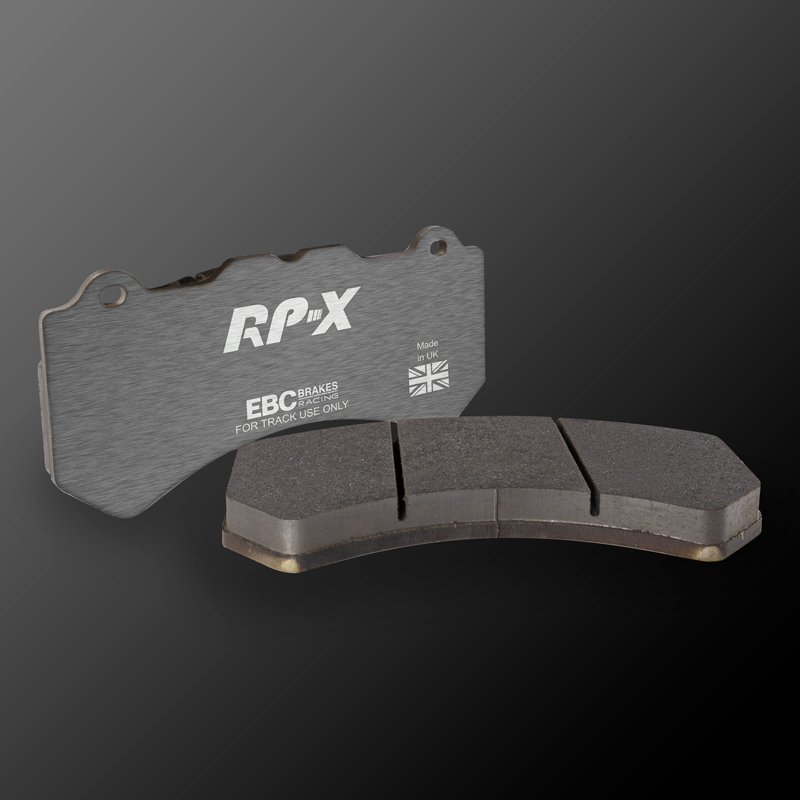 Following the hugely successful launch of RP-1™, EBC Brakes Racing increases its motorsport brake pad range with the introduction of our latest ultra-high-performance track & race material, RP-X™.
View Product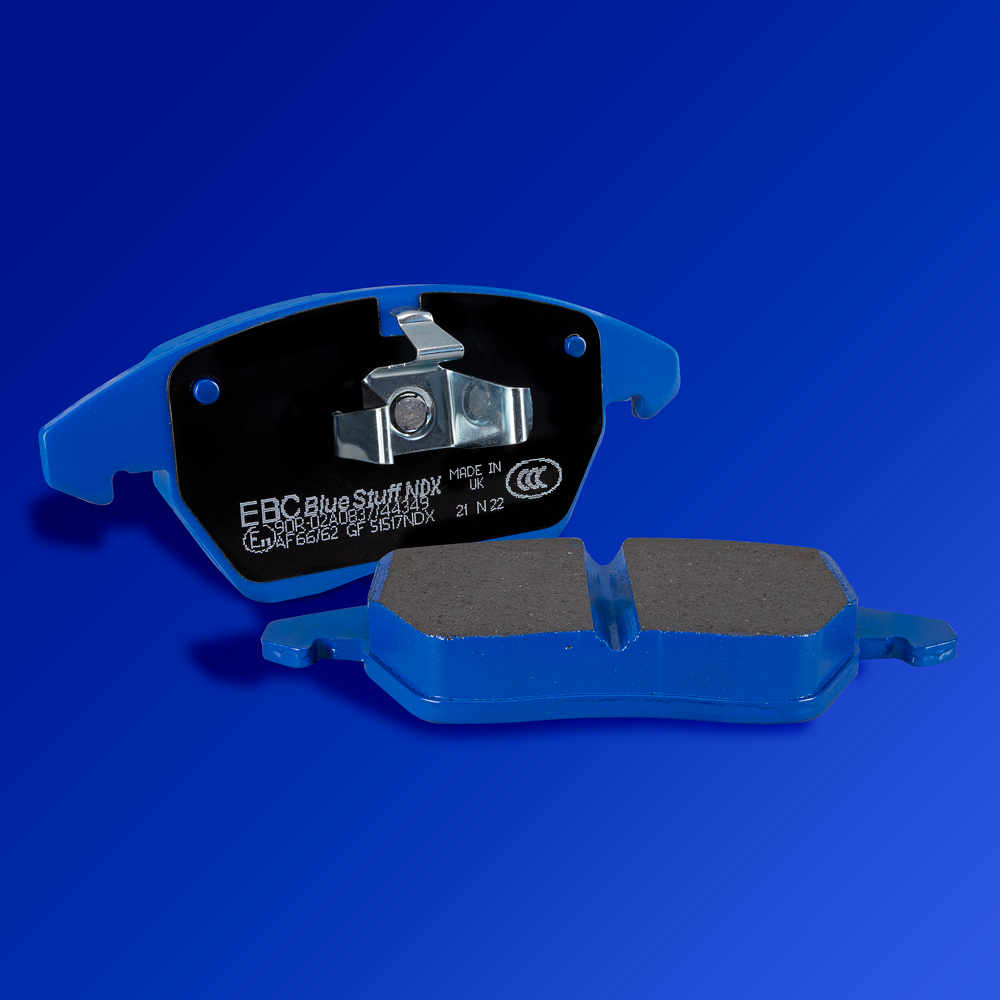 Bluestuff NDX is a high-friction sport and race pad that now has R90 approval on almost all fitments for the EU and is therefore totally street legal. Ideal for road-going sports cars and club-level racing events.
View Product