RP-X™-equipped pro driver kicked up smoke at Japanese car event
Pro drifter, Stuart Egdell, recently announced that he will continue his partnership with EBC Brakes as he once again enters another season of the British Drift Championship [BDC] in the Pro 2 class.
Egdell's formidable 2JZ-powered S14A Nissan Silvia features EBC Brakes Racing's RP-X™ pads and GD discs – products which have helped him achieve impressive results in recent years.
He recently made his 2023 debut at the non-competitive Spring Action Day show at Castle Combe Circuit, which was closely followed by more drifting demos at the recent Japfest show at Silverstone – both great chances to dial-in the changes made to his car over the winter.
You can read how Japfest went down in Stuart's own words below.
"Just got back to normality after a wild weekend at Silverstone! Japfest once again boasted sell-out crowds and reports of people queuing for hours to get in (just to see me, I'm sure…) This led to a blinding show!
"We arrived on the Saturday, delivering the 350Z to long-standing partners EBC Brakes' stand, then returned with the S14A to set out our Drift Kings pit setup.
"Sunday morning was an early start with a bit of drizzle on the way up to the circuit. Upon arrival at 6:30am, there was already queues of traffic backing onto the dual carriageway, and three lanes of stacked traffic leading into the circuit – we knew it was going to be a BUSY day!
"Public started flocking in at 9am and our first session was a damp 10am outing. As I scrubbed in the tyres and warmed the car up on my way round to the start line, the clouds parted and sun came out. Our first session lasted 20 mins or so with a few slippery patches here and there giving a few off-track moments, but by the last few laps a fully dry smoke show was on the cards."
"The second session was a full-heat, full-smoke, max-boost, flat-out crazy fun time, with two sets of Zestino tyres burnt through!
"After the second session, we had an open pit and autograph session. I signed every hero card I had to give away, then moved onto people's T-shirts, programmes and even some bare skin. I even had to sign my Helix teammate Henry's hero cards as I had depleted the hundreds I had.
"We gave away all of our goodie bags, sweeties to the kids that came over, and answered many questions about the sport and the car.
"My team worked exceptionally hard trying to get to the bottom of a power steering-related issue, as well as keeping me stocked up with fluids, goodie bags and food!
"Our lest session was a bit wild; I'd been pushing the boundaries throughout the day and in the final few laps I went a little too fast, and a little too wide, cutting the grass down the straight, destroying my front bumper and the GoPro attached. We managed to retrieve the many pieces of fibreglass, and a slightly worse for wear GoPro.
"So, what's next? Some required maintenance, a new bumper, paint, and wrap, then off to our first main competition of the year: IDC round 1 at Ballykelly for the Northern Irish Motorsports Festival…"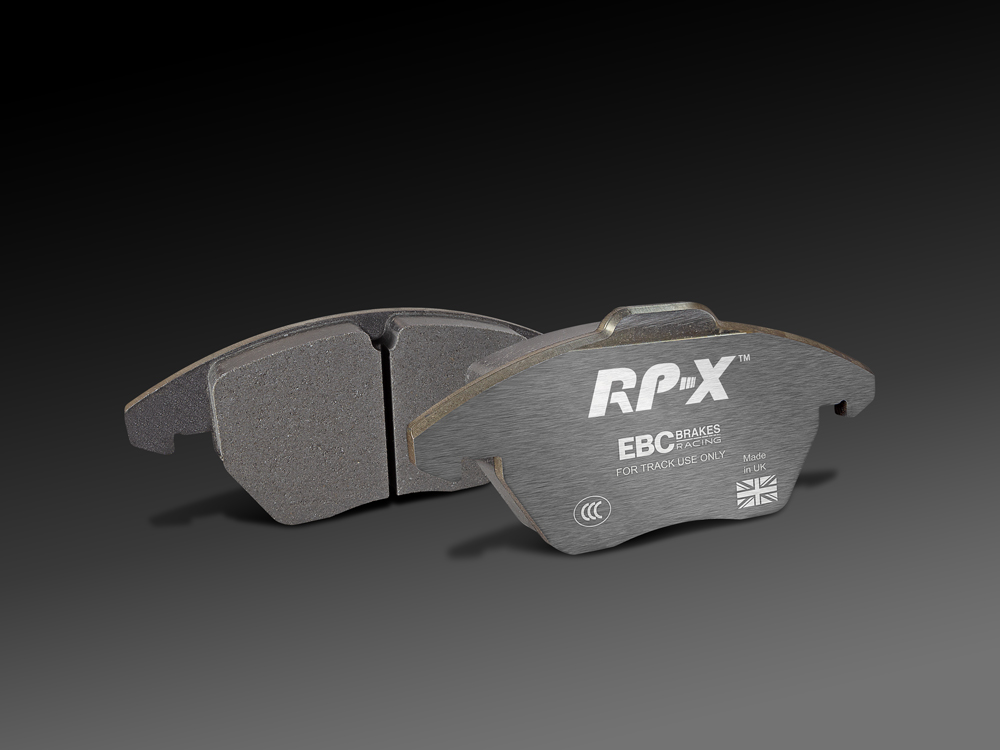 Following the hugely successful launch of RP-1™, EBC Brakes Racing increases its motorsport brake pad range with the introduction of our latest ultra-high-performance track & race material, RP-X™.
View Product
British-made discs that are precision machined in the UK. Rotors are made from high quality grey iron to exacting standards and undergo extensive testing and rigorous quality control.
View Product