The young kart racer showed incredible promise at his first race of the season
Kart racer Jensen Powers dusted off his race suit for his first competitive weekend of the year in the form of the Shenington Kart Club round of the MSUK Championship in January.
With a newly-built engine powering his Rotax kart, Powers showed what he was capable of across the weekend, hinting at an extremely promising year for the young driver.
Powers continues to proudly use EBC Brakes' kart brake pads on his competitive machine for another year.
You can read how the races panned out in his father's words below.
"Well, after a well-earned break since the end of November '22, this weekend it was back to work for Jensen to compete in round one of the 2023 Shenington MSUK Championship.
"We arrived at the track a tad anxious due to having not even started, let alone tested, our one and only Rotax Max engine, which over the break had been fully rebuilt by Time Racing Engines at Whilton Mill. But we need not have worried because Dan and his team had worked their magic and returned the motor in fine fettle. The unit sparked into life on the very first turn of the crank sounding as spritely as ever.
"So, it was to the track, which by now on the Saturday was wet to say the least, and it was therefore difficult to judge our real pace on fresh running gear.
"It did give young Jensen a chance to blow the cobwebs of Christmas away and get back into the groove, though. Practice went well, with Jensen securing 5th fastest in Practice 2 and at one point posting a fastest on-track time. Not a bad first day back at school so to speak.
"We returned the following day to a very chilly but bright and sunny Shenington track where hopefully we could post a more realistic time and prove good our motor.
"With random grids employed, the first race of the day started us mid-grid in 9th place. BOOM! Great start from Jensen, gaining a place going into Cafe corner late on his EBC Brakes and resulting in the fastest Sector 3 time of the opening lap. Driving hard and consistent, a further place was taken on Lap 4 and again another place on Lap 5, leaving us now in 5th place, with teammate Milo Manderson in the #77 MS Kart breathing down JP's race suit collar."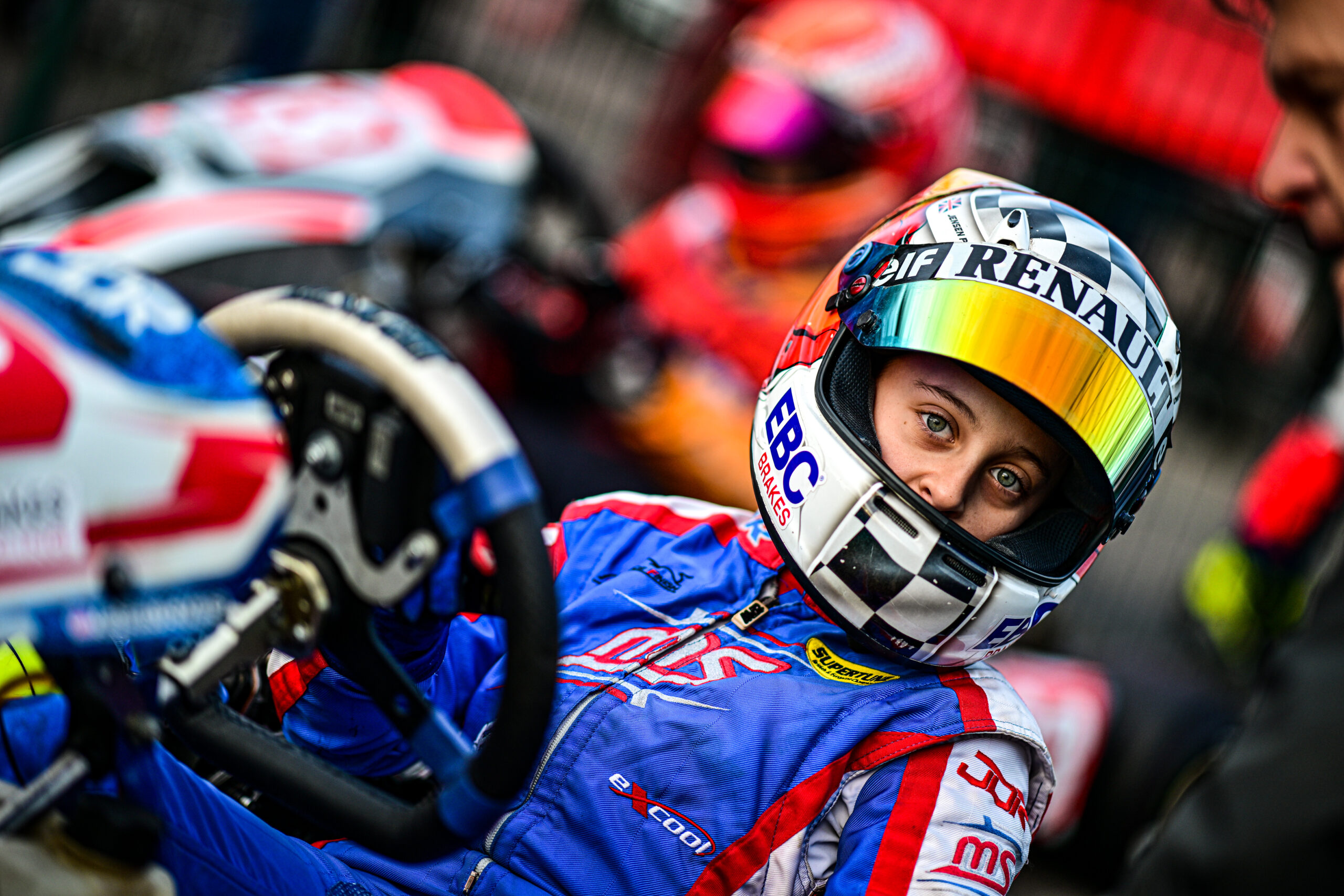 "Jensen, try as he might, was unable to fend off and was taken by his fellow teammate, dropping him back into 6th position. Driving smooth but fast, Jensen comfortably held the place for the remaining six laps, coming across the line in 6th place – a yield of four places in the first race of the day.
"The following and penultimate race of the day saw Jensen start on the front row in P2. His heartbeat was palpable on the grid as he glanced across at the competition in Pole who was nearly twice his size. This time, we lost a place going into turn one, but still managed a strong start nevertheless.
"So, with JDR's own Lizzie Mentier and again teammate Milo Manderson chomping at his heels in 4th and 5th respectively, it was head down and hard at it. Jensen held off Lizzie for four laps, but was then taken on Lap 5 by the #50 and later on Lap 9 by #77, pushing us down in 5th place which was held for the seven remaining long laps.
"So to the Final! Jensen though was sadly scuppered by an ill-fitting clutch drum washer which left him free revving and unable to make the start line. A sad ending really to a weekend which did show though that after nearly two months off both our pilot AND motor were still on the pace. It was extra good meeting up with friends and watching Milo Manderson's stonking Rotax Junior final where he 'punched' well above his weight… Watch this space!
"A big thanks goes to Tim Bullard at EBC Brakes for their ongoing support!"