Jensen Powers and Milo Manderson both secured front-running finishes at Oxfordshire weekend
Jensen Powers and Milo Manderson are both competing in the various kart championships throughout 2023, with the latest race weekend taking them to Oxfordshire's Shenington Kart Racing Club, where they competed in the Junior Max class.
Both continuing to entrust EBC Brakes pads in their karts, Powers and Manderson both put in fantastic drives throughout the weekend to gain some impressive results.
You can read more about how their weekends panned out in their team's words below.
"This weekend's high-octane journey took the team to a classic track: Shenington Kart Racing Club circuit near Banbury.
"Saturday's practice sessions ran trouble-free for both Milo and Jensen, and all looked promising for the last run of the day in Heat 1. In particular for Milo, as his motor proved to be in fine tune, posting fastest laps in the earlier sessions.
"Our youngest pilot, Jensen, was to start Heat 1 in pole position and with his well-controlled formation lap, a green light start was in the offing. Milo made a strong start, holding position going into the first turn and Jensen gained a two-kart lead out of the Cafe Complex and continued to pull away from the pack.
"The usual ducking and diving ensued until the heavens opened with only three laps remaining. All drivers showed Senna-esque skills, keeping their machines on the rails in truly monsoon conditions and on slick tyres too!
"Jensen fought hard but was eventually overtaken and now down into third, but he was not to be beaten and recovered second place in the tightest of race finishes. Milo also drove with exceptional finesse in the same treacherous conditions, gaining some nine places and finishing in 6th position."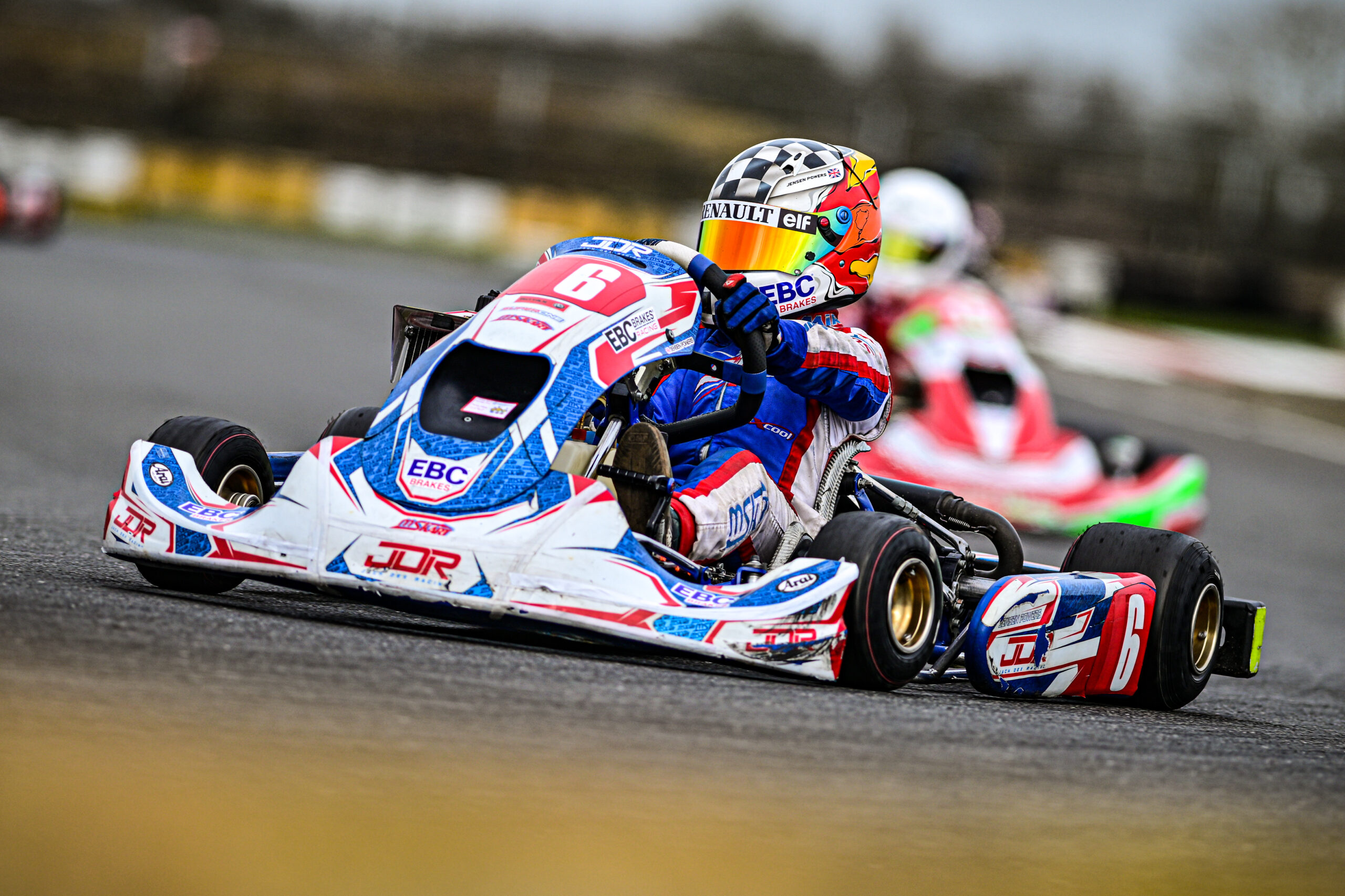 "So it was onto Sunday – race day – and Heat 2 had a particularly questionable formation lap, but start they did. And it was to be young Milo's day; simply in a class of his own, totally dominating both Heats 2 and 3 with the fastest laps in each to boot.
"Onto the Final, with Milo in a well-earned pole position and again with a well-disciplined start, he held the lead for 15 fully-charged laps until his pre-raced Kimbolton tyres could no longer provide the optimum grip and the chasing, more experienced driver on new tyres finally took the lead with just two laps to go. Alas, second place it was to be for Milo by just 0.05 of a second, what a race!
"Sadly, Jensen's final was to be cut short by a unexplainable mechanical issue whilst he was making his way up the order. 
"What a weekend – many, many positives for both Milo and Jensen and what a confident position to be in going into the next race which is the opening round of the much-coveted 2023 Super One Championship… good luck boys!"