Stuart Egdell has competed in both the BDC and other guest series in recent months
Team Redmist drifter, Stuart Egdell, has been enjoying competing in the Pro 2 class of the British Drift Championship [BDC] this year.
Egdell drives a ferocious Nissan S14A Silvia, with a Toyota 2JZ engine swap, once again proudly using EBC's GD discs and Yellowstuff pads on this vehicle during the season.
As well as a recent round of the BDC at Three Sisters Circuit in Wigan, Egdell also recently took part in the popular LZ Festival at Ireland's Mondello Park, too.
You can read how his last few months have unfolded in his own words below.
"What an epically busy last month we had! Straight after the Teesside BDC round, we had the car back in tip-top condition with freshly painted panels, some bumper bar action, a good full service, replacement steering arms and alignment, as well as a wheel refurb to top it off. Then, I had some much-needed family time with a weekend trip to Disneyland Paris.
"Back from Disney on the Thursday, it was onto the ferry Friday and off to Ireland for LZ Festival!
"Unfortunately, our luck with the weather ran out. Saturday was a washout ­– the rain came down by the bucketload! With big numbers there and limited driving, I only managed two laps of practice.
"Qualifying was much the same. I struggled to get a grasp of the layout and couldn't manage a score to get me in qualifying, so that was the end of the driving experience for me there. However, the rest of the show was outstanding, the weather on the Sunday turned and the sun came out making the experience amazing. The drivers that turned up from all over the world in some of the best machines Europe had to offer was crazy to witness. I did lots of talking with lots of different drivers and greeted many fans for photos with me and the car. Ireland – I really can't wait to spend more time with you next year!"
"After another quick turnaround, we were off to Three Sisters for the fourth round of the BDC – the final point-scoring round of the championship.
"With the passing of Her Majesty Queen Elizabeth II, Friday's practice was cancelled and a day of mourning and respect was shown.
"Saturday was perfect; the weather greeted us again with beautiful sunshine and perfect driving conditions. Qualifying went perfectly with a good score putting me in 17th place, the driving was on top form from all the drivers.
"My battle saw me against Sam Nolan in his immaculate S15. We both gave it our all and I can honestly say it was the best battle I have had in a long time. Sam pushed hard and took the win, doing very well that day.
"After a quick wrap-up from Three Sisters, we rushed off to the mega crowds at Silverstone for the TRAX show.
"The Sunday saw large numbers of people turn up for the show, I had chosen to sit out of driving here and concentrated on talking to the fans and customers on our Helix Autosport stand instead.
"So, what's next? I have just got back from the BDC final at Buxton (updates to follow). There's a trip to Snetterton, the Halloween Action Day show at Castle Combe and the Grand Finale at Silverstone to wrap up the season.
"Thanks to EBC Brakes as always for their continued support."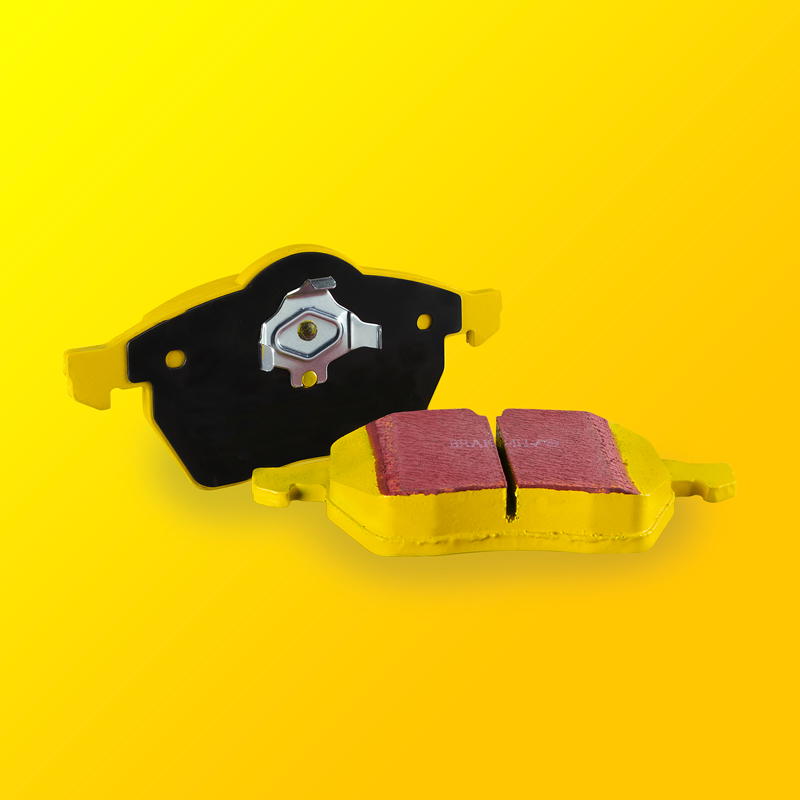 A true winner all-round. It has high friction from cold, not requiring warm-up for street use yet when hot, the brakes just get better. High efficiency performance and race brakes for track and street use, fast to bed-in, great for street vehicle brake upgrade.
View Product
All EBC rotors including USR Slotted Rotors are British made and are precision machined in the UK. Rotors are made from high quality grey iron to exacting standards and undergo extensive testing and rigorous quality control.
View Product