Daniel from HRNSHN Racing has been impressed with the new compounds in both his GR Yaris and BMW M3
Daniel Novender runs car tuning outfit/shop, HRNSHN Racing, in Linnich, Germany. A keen track driver himself and being located very close to the fabled Nürburgring means it's no surprise that Daniel enjoys regular track days in his two heavily modified track cars: an E46 BMW M3 and a Toyota GR Yaris.
As with all self-respecting track day enthusiasts, Daniel has spent years fettling the braking setups on his machines, recently putting some of EBC Brakes Racing's acclaimed motorsport brake pad compounds (and an Apollo Big Brake Kit on the BMW) to the test.
Thanks to his demanding choice of circuits and fast driving style, Daniel has been keen to find a brake pad that can stand the test of time, with EBC Brakes Racing's new SR-11™ and SR-21™ sintered endurance race pads promising to do just that.
You can find out more about Daniel's journey to braking perfection, and what he thinks about EBC's SR™ range below in his own words.
"I was using EBC's RP-1™ pads with my previous aftermarket brake calipers on my E46 BMW M3 track car. Based on that good experience, I decided to give my friend my old calipers and try the new Apollo Big Brake Kit.
"I've used the Apollo kit since around March of last year, firstly with RP-1™ pads. Bite and fading resistance was decent.
"With this knowledge of the RP-1™ pads, I decided to also use them in my Toyota GR Yaris track car. I tested this setup at Circuit Zolder in May last year – working well but wearing fairly fast.
"I recently upgraded my M3 braking setup to EBC's new SR-11™ sintered endurance pads, with my local EBC stockists telling me these new pads would deal with heavy track usage more effectively.
"I did four stints of the Nürburgring GP circuit and was quite amazed with the initial bite and overall wear rate. After some laps of the Nordschleife, there's still plenty of life left and I'm still happy.
"With this experience and knowing my previous pads would soon be finished in my GR Yaris (which is now equipped with uprated brake calipers too), I decided to go for SR-11™s in this car too.
"The SRs on the Yaris have now done around 35 laps of the Nordschleife and show a bit of wear. Other than that, they really perform well, lap after lap.
"With both cars, I always have a brake cooling setup – with air collected at the front bumper and fed directly into the cooling vanes of the discs."
"With my BMW M3, since installing my Apollo Big Brake Kit one year ago, I have performed 124 laps of the Nordschleife (at 7:35min Bridge-to-Gantry pace), 100 laps of Mettet Circuit in Belgium, 6×15-minute sessions of the Nürburgring's GP circuit and 14 laps of Blisterberg Circuit – all on a single set of SR-11™ pads.
"There is still a bit of material left. Due to the good brake cooling, the inner side is a bit thicker. I'm using Porsche Cayenne calipers with E9x BMW M3 brake discs on the rear. 
"First impression of the pads is the early high initial bite which is consistent during all operation temperatures which is amazing. You never have the feeling that you cannot rely on the brakes which makes them fun to drive. Noise level is quite low for a sintered pad as well.
"Overall RSL 29 was my main favourite pad because there is literally 0 issues with them, but now I've started to convince my friends and customers to use SR-11™ instead, and there's been a 100% agreement rate so far. We've also had tested the SR-21™ in the AP Racing BBK for the GR Yaris – more on that soon."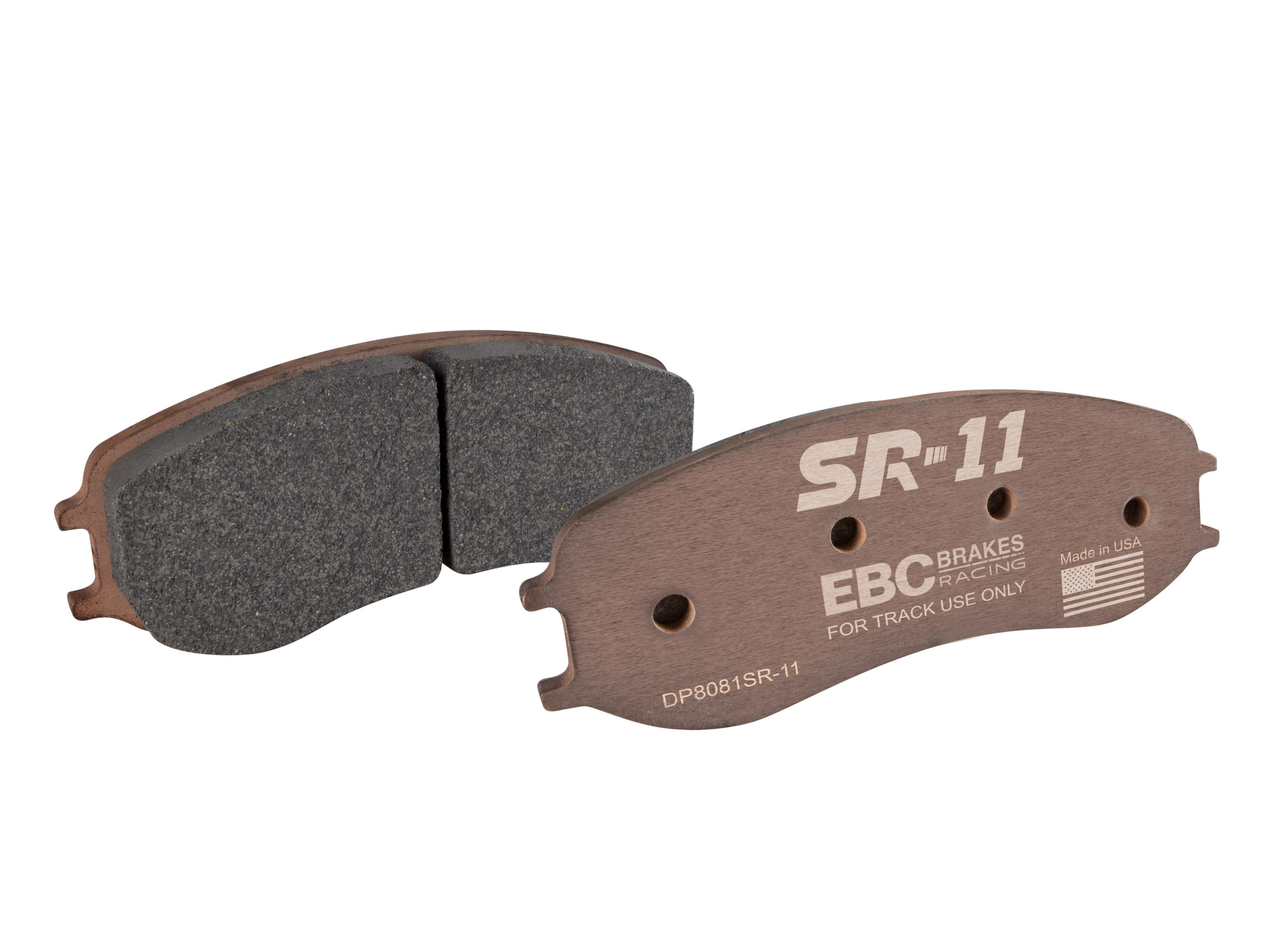 SR-11™ Race and Endurance Pads
The latest sintered race material from EBC will launch in spring 2022 and promises to eclipse most of today's organic, semi-metallic, and carbon-based racing brake pads.
View Product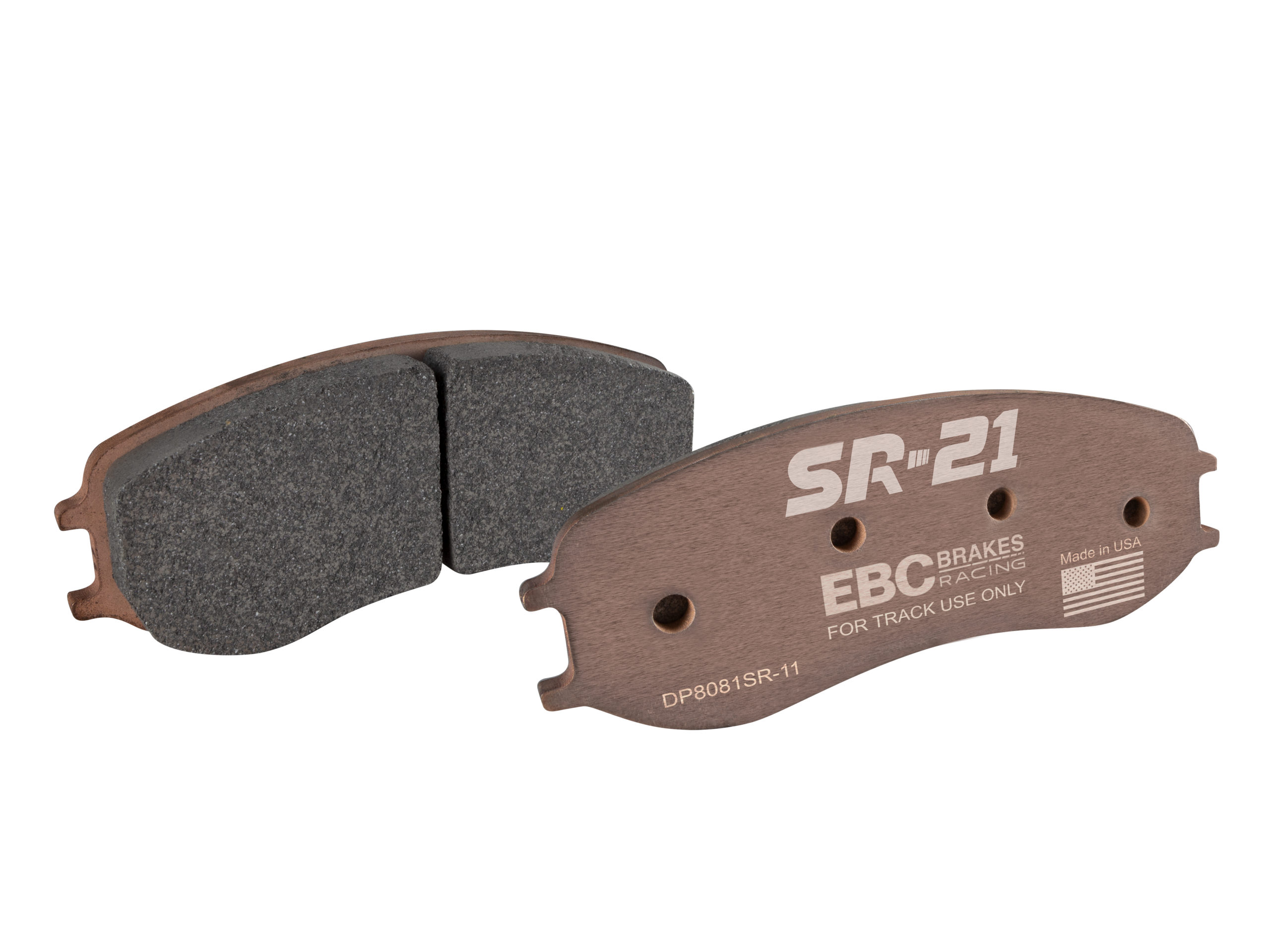 SR-21™ Race and Endurance Pads
A variation of SR-11™ that offers ultra-high friction and is targeted for the front and rear of race cars with bias controls only. SR bites harder and lasts longer.
View Product