Dan Kruger is currently leading the pack in the USA's AMA/WERA National Championships
Canadian road racer Dan Kruger and his Nature Power Kawasaki team are continuing their path towards victory in both the Superbike/Superstock standings following more successful rounds of the AMA/WERA National Championship in recent months.
Kruger continues to entrust EBC Brakes Racing's GPFAX track/race brake pad formula on his 2022 Kawasaki Ninja ZX-10R race bike, in an ongoing relationship with EBC Brakes that has lasted over a decade.
You can read about Dan's recent success stories from the last few months in his own words below.
"Since my mid-summer update, our team has continued having an epic season and we are well-positioned to take back-to-back National AMA/WERA championships for 2023.
"It has been a busy four months – we first travelled up to Road Atlanta and won five races. Next was the CMP Circuit in Carolina where we also won. Then it was up to Mid-Ohio to take four podiums in four races. This was a new track for us so plenty of work but also great fun and tens of thousands of spectators, which made it exciting. Finally, we just got back from Pittsburgh from another National and Endurance Race and won our Endurance Class and I took a very important podium along with a top-five finish to gain valuable championship points."
"We are currently leading all three National Championships and keep racking up the wins, podiums, and championship points. The season is going great!
"We will be at Road Atlanta this coming weekend for a smaller event and then off to Virginia in September for the Summit Point Nationals and Endurance Championship. We then have a private test and finish the USA Season in October at Barber in Alabama for the Grand National, where we hope to be crowned National Champion across multiple classes including the prestigious Superbike Class. 
"None of this would be possible without the ongoing support from EBC Brakes, so a big thank you and we hope to update you all with great news after Barber in October."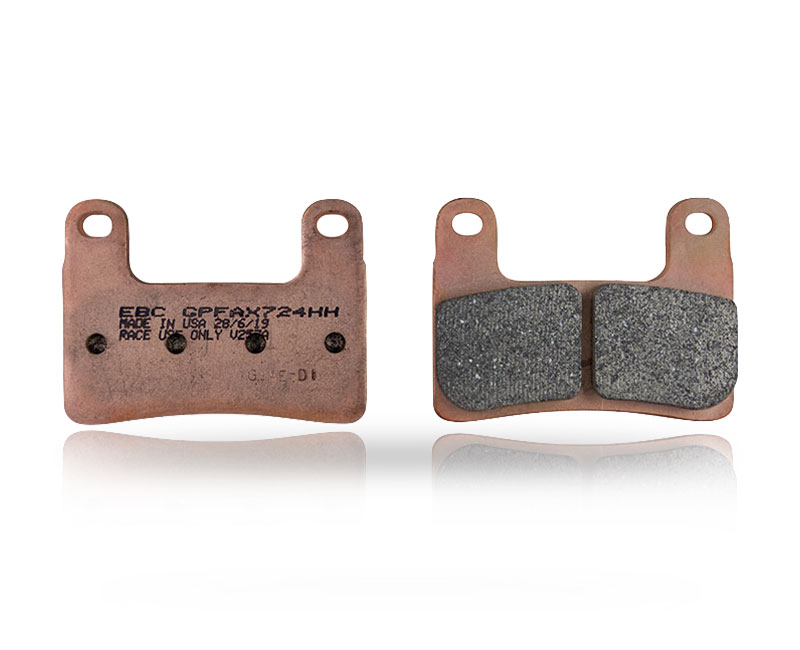 GPFAX Sintered Race Brake Pads are for RACE ONLY use. This is a blend of brake pad that has higher friction and far better grip than any other brake product on the market.
View Product