The braking components worked superbly on ultra-high performance SUV
With its 700bhp 6.2-litre supercharged V8 powerplant, the Jeep Grand Cherokee Trackhawk is one of the most formidable road-going vehicles money can buy.
The incredible performance on tap combined with the car's significant kerb weight does mean that it requires nothing short of an exceptional braking system, however. Luckily, EBC Brakes Racing now offers a range of high-performance track/motorsport brake components for this vehicle (as well as the Dodge Durango SRT Hellcat).
John here is one Trackhawk owner who was keen to test out these new components. A fan of spirited road driving as well as regular track days, he was interested in finding ways to bolster his braking system, opting to try EBC's RP-X™ brake pads and two-piece fully-floating rotors.
Although he's only tested them in cold winter road conditions so far, John is already very impressed with the setup. You can read his review in his own words below.
PLEASE NOTE: EBC Brakes Racing's RP™ brake pad range is not R90 homologated for the public roads in EU member states, but the material possesses excellent cold performance meaning that it can be safely used for driving on the roads where local laws permit.  
"In a past life, I was a test engineer for Ford Motor Company, where I did engine dyno testing and test driving.
"I wanted to test some EBC Brakes products on my Jeep Grand Cherokee Trackhawk.
"The two-piece rotors went on the same as the OEM products (the centre hole of the rotor fits nicely around the hub lip). The RP-X™ pads worked with the rotors right away with no binding or excess play.
"Although the roads around here are currently very cold, I managed to get a hundred miles' testing in on this combination and was very pleasantly surprised how well it worked even in these conditions."
"There was a little shudder at first, until the rotor's protective coatings wore off, but after that, these pads exhibited very strong braking. I did not expect a track formulation to behave in this manner without getting some heat in the pad material! I was greatly relieved that they performed this well in the cold – better than stock even.
"I even had another driver put on about 50 miles when I was the passenger, and he was very impressed. There was absolutely no brake squeal or noise of any kind.
"I plan to add another hundred miles to this combination in the next week or so, also do some track sessions when the weather improves. On track, the plan is to run the RP-X™ pads (front and rear) first for a full day of track testing, then replacing the front RP-X™s with RP-1™s for another day's testing (looking to induce some oversteer/trailbraking). I will be thrilled if they perform as well in high-heat conditions as they have on the road!"
Fully-Floating 2-Piece Brake Rotors
High-performance pin-drive two-piece brake rotors, featuring a cast alloy friction rings, aerospace-grade aluminium bells, SD Drive™ bobbins and much more. Offering exceptional braking performance and heat management on road and track.
View Product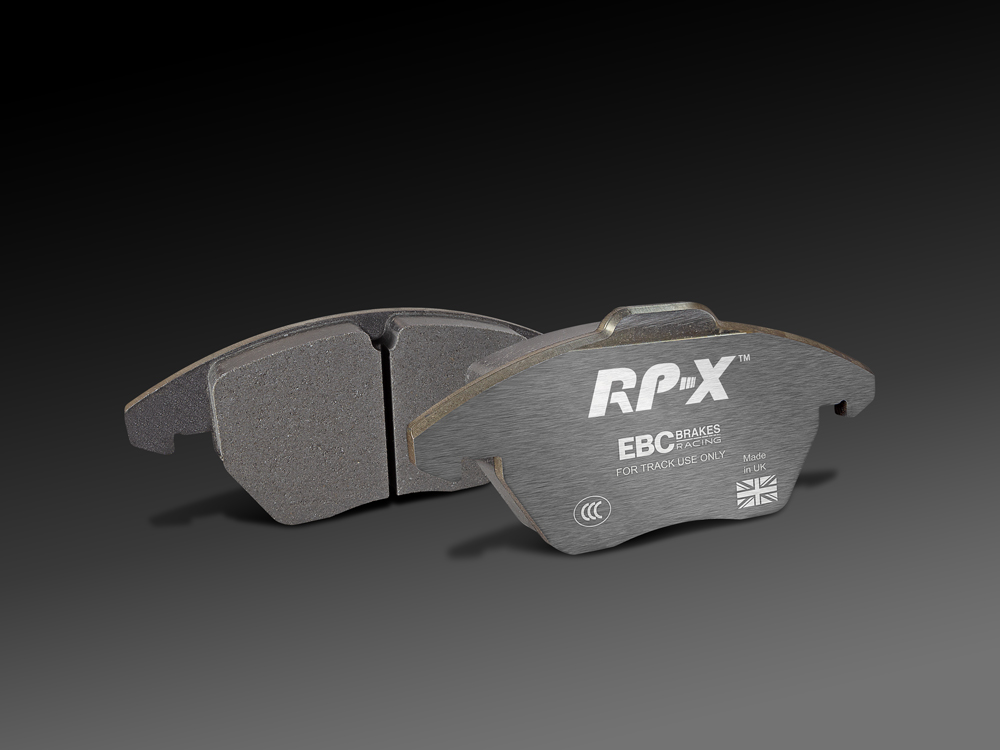 RP-1™/RP-X™ Track/Race Brake Pad Range
Following the hugely successful launch of RP-1™, EBC Brakes Racing increases its motorsport brake pad range with the introduction of its latest ultra-high-performance track & race material, RP-X™. Possessing a high friction level and a 100% brake effect from cold.
View Product