EBC-equipped brothers explain how their most recent rounds at Silverstone Circuit unfolded
Brothers Kade and Luke Verwey have been working their way up the ranks of the Pirelli Junior Superstock series within BSB for the last few years now, putting the Verwey name on the map with some impressive results between them.
Both riders proudly use EBC Brakes' floating discs and GPFAX race pads on their respective Kawasaki ZX-6R motorcycles. The duo recently raced in the Silverstone round of the series, their reports can be read below.
KADE VERWEY – Kade Verwey has vowed to bounce back even stronger after an unlucky home round of the Pirelli Junior Superstock Championship.
The 21-year-old was denied a result after he was T-boned by another rider and forced into a big crash during Sunday's race at Silverstone.

But he is refusing to dwell on what proved to be another tough weekend through no fault of his own and is instead focusing on finishing the final three rounds in style.

Verwey, who lives just a few miles away from the iconic track, had been among the front-runners during free practice, ending the second session second overall and had been the first rider to dip under the existing lap record.

However, things took a turn when a small mechanical problem hit in qualifying and he was unable to bank a fast enough lap to qualify at the front and had to make do with 15th on the grid for Sunday's race.

At the green light he got a good start, launching himself several places up the order and was feeling strong and confident until he was suddenly wiped out by another rider who had cut across the grass and re-joined, sending him flying into the gravel.

Thankfully unhurt, he was disappointed to not even complete one lap due to someone else's mistake but is now looking ahead to the remainder of the season.
Kade Verwey:
"In many ways it was a similar weekend to what we've had all year. I had really great pace in free practice and was second in FP2 but we unfortunately had a bit of a mechanical problem in qualifying and I had struggled to get a lap in.

"I qualified 15th which wasn't too bad and I still felt I could win from that position because the nature of the track at Silverstone means it's quite hard to break away, so you tend to get a good group chasing the win – I thought if I could get up with that group at the start I'd be okay.

"But you can't really plan a race. I had a good start, the first corner was great then I went around the outside of a few people into the next one and then up the inside into Becketts. I settled into the corner then out of nowhere someone cut over the grass and T-boned me and took me out the race.

"This year I seem to just keep getting taken out which is very unfortunate and unlucky but you can't sit and dwell, you have to move on. I know I've got the pace – I've shown it all year – but now I need to get some luck on my side and get some results for the final few rounds."
Kade will be back in action in just under a fortnight when the series returns to Oulton Park in Cheshire.
LUKE VERWEY – Luke Verwey is feeling confident about the remainder of the season after narrowly missing out on a points finish as the Pirelli Junior Superstock Championship hit Silverstone at the weekend.
The 22-year-old from nearby Silverstone village headed to his home track after making big strides last weekend at Snetterton and was eyeing a strong finish.

But a number of technical issues after a crash meant he made limited progress on the National circuit as he just missed out on a top 15 score.

After opting to sit out Friday's wet FP1 with no rain forecast for the rest of the weekend, the Team XG Racing Kawasaki rider was quickly setting personal bests in FP2 as he finished the session 18th, just a second off the top three.

Five laps into qualifying, however, it was all hands on deck as he crashed and sprinted back to parc ferme as his mechanics immediately got to work. Despite a frantic few minutes, he was able to get back out for one last effort as he salvaged 25th position on the grid.

As Sunday's race got underway, he made a solid start and gained seven places on the first lap before the safety car was deployed to deal with several crashes.

When action resumed, he got his head down and within a few laps was up to 16th, within reach of a points finish. He was soon caught up in a three-way battle for position before being pipped at the very last corner as he crossed the line 18th.

Although he knows he could have potentially been up inside the top 10, Luke is already looking forward to the next round at Oulton Park – where he had his best finish of the season earlier this year.
Luke Verwey: 
"Going into FP2 straight away I went way faster than I'd been before, so I was really happy with the pace.
"But I had a nightmare of qualifying and I finished P25, I ended up crashing five laps in and it was quite a fast crash at turn one. I sprinted back over to parc ferme where the bike was going to be dropped off, called my mechanics over to fix the bike there and I still got back out. 

"The only downside was there was definitely a technical issue scrubbing loads of power. But the bike was still rideable and it was one of those things – it happens. 

"Just before the race I had an electrical problem with the bike, so we had to sort it and I only just made it to the grid. It looked like the issue was fixed on the dash but it was still there so the race was quite hard. I managed to finish 18th.

"It's frustrating because I think without the issue, I'd have been solidly in the points, maybe even 10th.

"I'm looking forward to Oulton now and hopefully all these gremlins can go away and we can have a good weekend."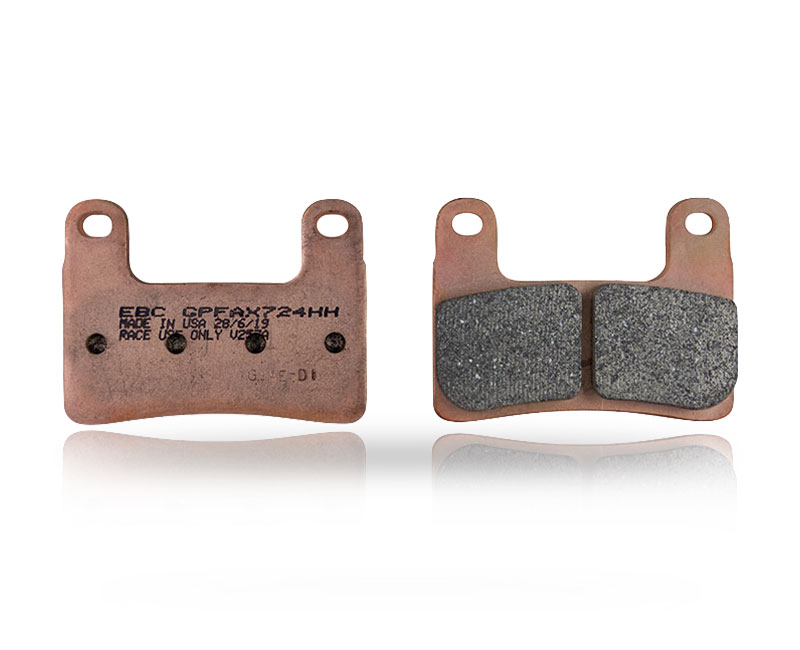 GPFAX Sintered Race Brake Pads are for RACE ONLY use. This is a blend of brake pad that has higher friction and far better grip than any other brake product on the market.
View Product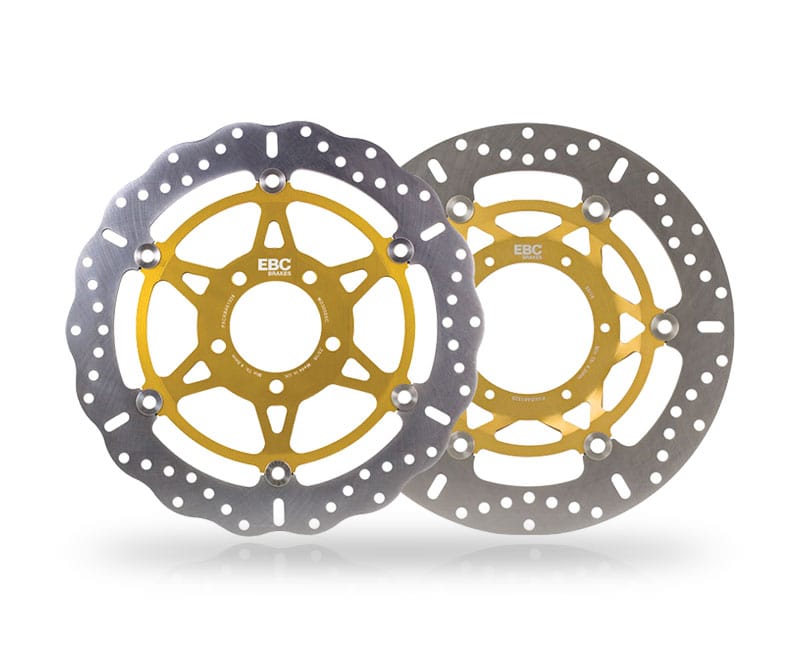 Floating Motorcycle Discs
Since their introduction, EBC's ultra-lightweight floating motorcycle rotors have become one of the worlds best selling lightest and best performing discs available for all modern sport bikes.
View Product