Fiesta ST150 driver clinches top spot in series, beating all faster classes in the process
Previously racing in the series in a Ford Fiesta XR3i, Chris Jones this year entered the ST-XR Challenge in a Fiesta ST150 that he self-built last winter.
Using EBC Brakes Racing's RP-X motorsport pads for the latter half of the season, Jones seemed to find the perfect setup with his car, eventually propelling him to win the series outright following some spectacular final races.
Chris explains how the year panned out in his own words below.
"I first used EBC's RP-X compound at Snetterton, after performing the Friday test day on some old pads from another manufacturer. I changed for them for the second session to a new set of RP-X and I'm so glad I did.
"Immediately, I could feel a difference and not just because they were new but also because of how good the initial bite was and how good the pedal felt. I like a hard pedal and a pad that gives very good bite on initial application and good pedal modulation.
"After reading the well written bedding-in procedure, I felt confident enough to attack the braking areas. I could brake later and later as the session wore on and knew I'd made the right choice changing over to EBC pads.
"There was no fade, and they still gave incredible braking feel towards the end of the session and season. I used the car in qualifying the next day and from cold they still worked brilliantly.
"The pads have done three races and qualifying at Snetterton and Cadwell Park, and two races and qualifying at Oulton Park and Donington respectively, and still have life left in them. I've noticed even pad wear and they're not massively aggressive with the discs. There isn't as much brake dust as previously and they are a quiet pad.
"This season has been the first time in my new, self-built Fiesta ST150, having previously raced an XR3i in the same series. Going into this year's season, I had no real plan other than to have some fun and enjoy time away with friends.
"Having won the first four of five races, however, it then got a little more serious. Having to learn the car on test days at the four new circuits that we raced at (Croft, Knockhill, Snetterton and Cadwell Park), it was a steep learning car given the very competitive nature at the front of the grid with some of the best club drivers around. Sometimes after qualifying, the top five or six drivers were separated by tenths of a second, meaning you need to be on your A-game every time out in the car.
"Having had podiums at every meeting and still leading the championship, we went to Oulton Park (my home circuit being only 5 miles away). Testing on the Friday looked promising with the times dropping as the afternoon went on – it looked competitive for the races."
"Four cars off the line going into Old Hall was as good as it gets in club races and the amount of overtaking and position changes made for great races.
"A 3rd and 2nd meant that for the first time all year I was five points behind, with three of us still in with a chance for both the overall and class championship.
"Going to the last race of the season at Donington Park – a circuit I love – was going to be entertaining to say the least. Qualifying put me in 3rd and my rivals in 2nd and 5th.
"Having made good starts all year, another one saw me up to second for half a lap, before the cold rear tyres and a touch of bravado saw me run wide and down to 3rd.
"Three-quarters of the way into the race, I finally managed to pass Micheal Blackburn to take 2nd and a front-row start for race two. The points had shrunk to just four now. As the race came around, it was a similar story with a good start, where I took the lead at the first corner.
"A quick safety car stint and then run to the flag and another win and fastest lap put me two points in front, taking both the ST Class D and overall title to add to the three previous class wins in my Class B Escort XR3i.
"A truly fantastic season and such a competitive series – to come out on top is a brilliant feeling. Hopefully with the help of EBC Brakes, I can achieve similar results to this year moving forward."
Images: Flat Out Photography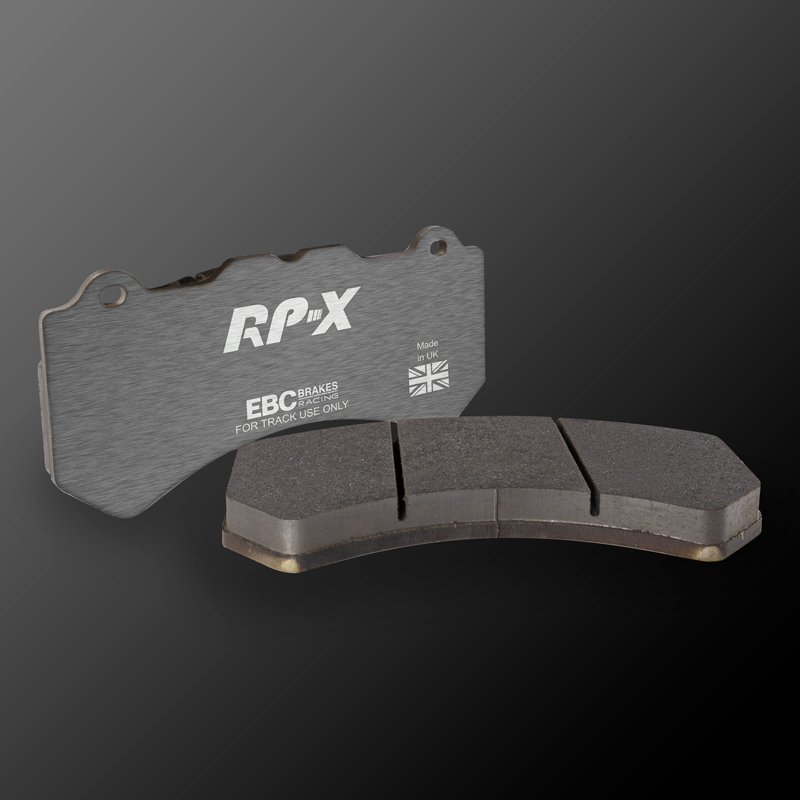 Following the hugely successful launch of RP-1™, EBC Brakes Racing increases its motorsport brake pad range with the introduction of our latest ultra-high-performance track & race material, RP-X™.
View Product