Mark Dicken piloted his Honda Civic Type R to second place at Croft Circuit
Racer Mark Dicken switched from another brand to EBC Brakes Racing's RP-1™ motorsport brake pads in the latter half of the 2021 season of the 750MC Type R Trophy series.
Pleased with how the component performed in his race-prepared EP3 Honda Civic Type R, Dicken plans to run the RP-X™ pad for the duration of the 2022 season, securing great results in the first round held at North Yorkshire-based Croft Circuit recently.
You can read how the weekend of action unfolded for Dicken in his own words below.
"Before the racing began, we had a Friday test day. The first session was all about bedding in the new tyres and brakes.
"Last year, for the last few rounds, I started running EBC's RP-1™ pads and found these to be on-par with the other brand of pad I was using, but lasting a lot better and not suffering with fade towards the end of the race.
"During some testing over last few months, I switched to the RP-X™ pad and wow – they are next level again, with so much stopping power compared to other pads. I have tried a number of brake pads, but no matter how hard you use these, they don't suffer from the fade other pads seem to.
"One issue I had in pre-season testing was the rears locking up due to not running ABS. This is something that's always going to be an issue, but it was like a handbrake being applied. I was running another company's rear pad, so after a quick chat with the experts over at EBC, a new batch of RP-X™ front pads and some EBC rears were ordered and arrived the next day, top service guys!
"Once they were all bedded in, I did three race simulation runs during the Friday test day and a few qualifying hot lap-style runs. The brake balance was really good. Into sections of the track like Sunny In, Tower and Complex, where you're scrubbing speeds of around 130mph down to 40-70mph, I could now trail brake without the risk of it going around on me as the rear snagged like before. Only now and again some smoke would come of the rears, but this was as the outside rear wheel was getting airborne.
"Race 1: after qualifying, it was clear that Christopher Nylan and Jake Hewlett had about half a second on the rest of us, with 3rd to 10th all separated by hardly anything.
"Luckily for me, a good start and a nice move around the first few corners got me up to 2nd, where a race-long defence was in order to keep this position. Jake had a good run at one point and showed his nose ahead of me into turn one, but luckily, I had the inside line and my EBC brakes were working amazing so we held onto it. I finally crossed the line 0.10 seconds ahead of him, getting second place and my first ever Type R Trophy podium.
"Race 2: starting 9th as they reverse the top 10 of Race 1, the start was a messy one for most due to some creeping at the start and some slow starters. I went down the back straight in 7th behind Ash Moor who was showing good pace and it took me a good two or three laps to finally get past him on the brakes into Tower bend.
"Ash then followed me for a few laps until he tried a move at the same place. Luckily for mem he didn't get it stopped enough and ran a little wide on the grass, giving me a gap. By this time the leading five cars were well up the road and with some free track space I got my head down and was matching their pace, but just couldn't claw enough back. I crossed the line in 6th, but after a few penalties, I got promoted up to 4th.
"A massive thanks the team at EBC Brakes Racing team – just by listening to a few issues I was having over a quick email chat, they have resolved my issues I was having. I'm looking forward to the year ahead running EBC brakes and I know at any point I can ask any questions and receive a professional and top reply and service."
Thanks to Jonathan Elsey Motorsport Photography for the image.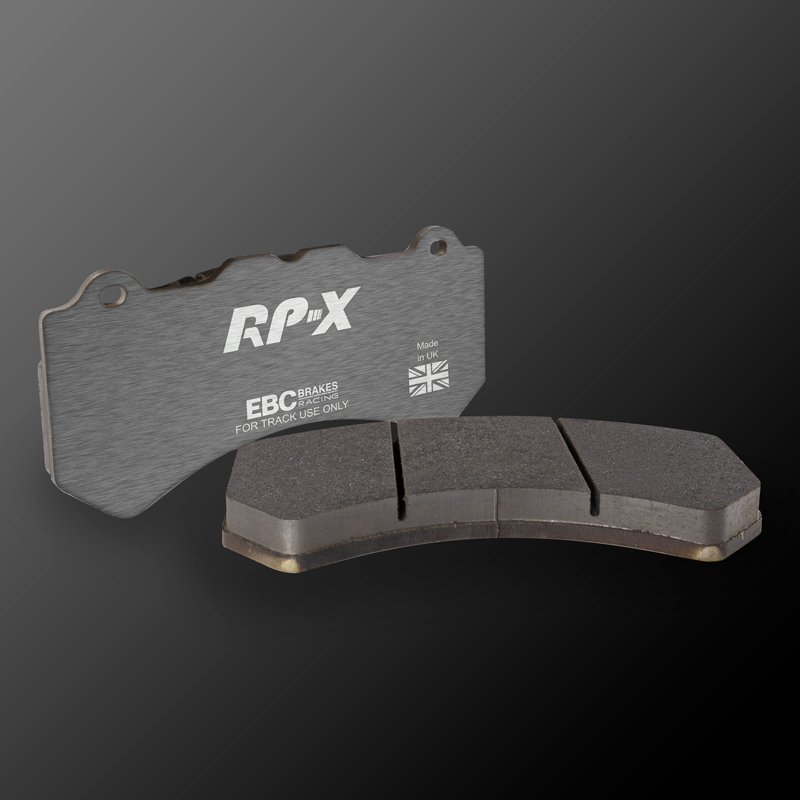 Following the hugely successful launch of RP-1™, EBC Brakes Racing increases its motorsport brake pad range with the introduction of our latest ultra-high-performance track & race material, RP-X™.
View Product