Managing your braking temperatures can be the difference between winning and losing in race situations
The sight of a glowing hot brake disc on the race track is a common sight, and although it can make for a truly amazing photo, it isn't always a good thing to see, especially if it's on your own vehicle.
When a vehicle is travelling at high speeds on track, it has a lot of kinetic energy. To slow it down, that kinetic energy must be converted to a different form of energy, which in this case is thermal energy.
If your braking system temperatures get too hot, however, they may lose their effectiveness and, in-turn, shorten the lifespan of both brake pads and discs, causing you to have to pay for replacements prematurely and more often than necessary.
What to Look Out For
Here are some tell-tale signs that your braking system is running too hot:
Soft/spongy/long pedal (this is normally when your fluid has got too hot)
Brake fade (this is when the brake pads themselves have a sudden and short-term reduction in braking effectiveness, and is normally caused by using a pad that is not suitable for the application in which you are using it for, making it excessively hot)
Brake pad glazing (this can happen when the pads have previously overheated and then cooled down, causing a glazed appearance on both the pad and disc surfaces)
Smoking and burning smell coming from the brakes
Glowing discs
How to Prevent Overheating
Make sure that your braking system is in good condition
Check that your calipers are fully functioning and that there are no issues such as sticky, sliding pins or seized pistons
Run brake cooling/ducting if and where possible
Use high-temperature brake fluid
Perform a brake bleed before and throughout your race weekend/event
Make sure you are using the correct pads for your application needs
Measure your braking temperatures periodically, both caliper and disc temperatures
Choosing the Right Brake Pads
SR-11 Sintered Race Pad
A fully sintered pad blend for fastest asphalt race and endurance applications. SR-11 was independently tested in a professional USA laboratory at 200-900Psi to LMGTE/GTLM race parameters. The new EBC SR range is a low-noise, long-life sintered pad blend that is designed to offer the LOWEST pad-wear-cost-per-lap in race driving.
High 0.55mu stable friction
Extremely fast bed in, works from cold
Heat range: 0° to 900°C/1650°F
Maximum pad wear life
Minimal disc wear
Made in the USA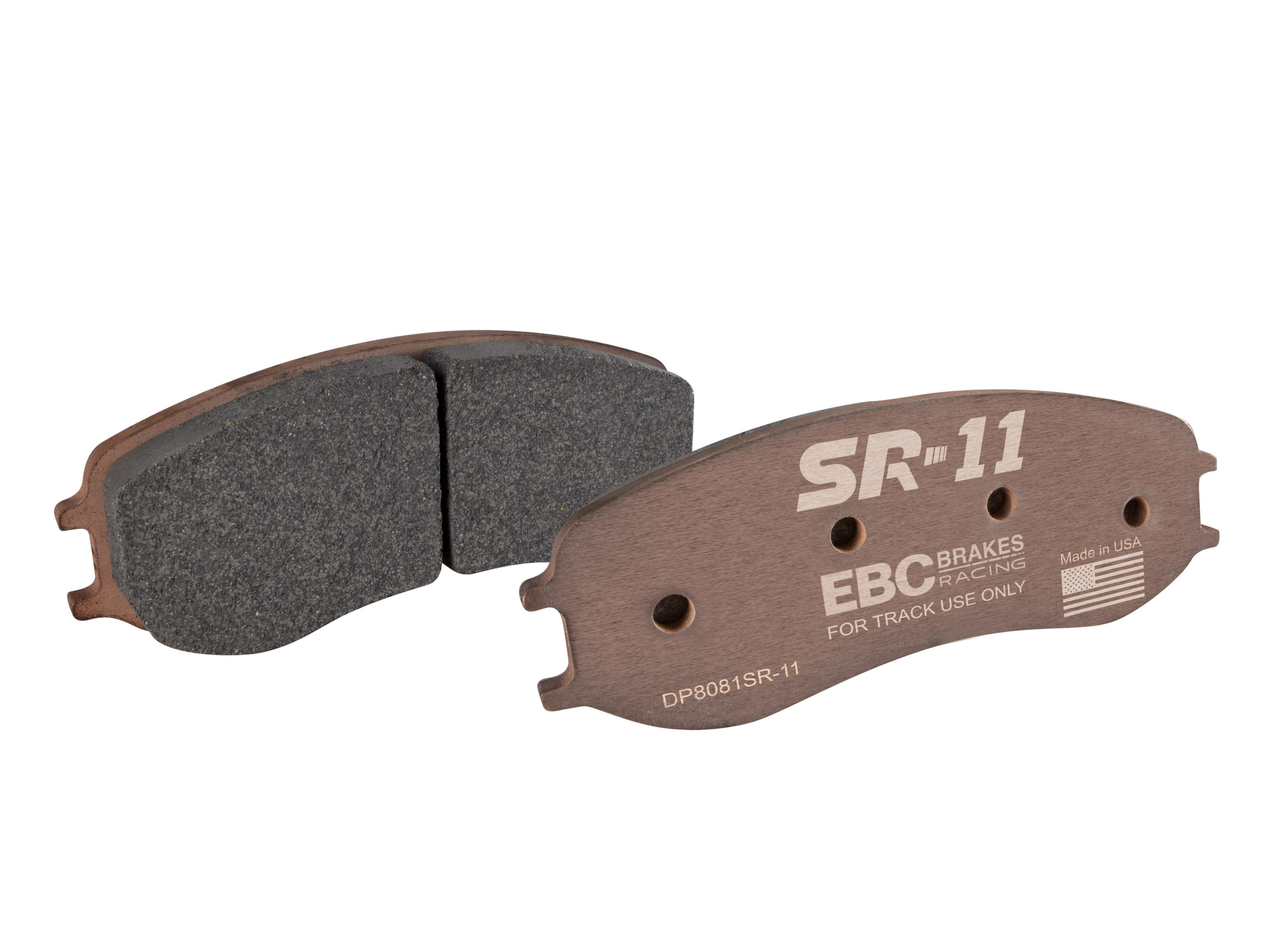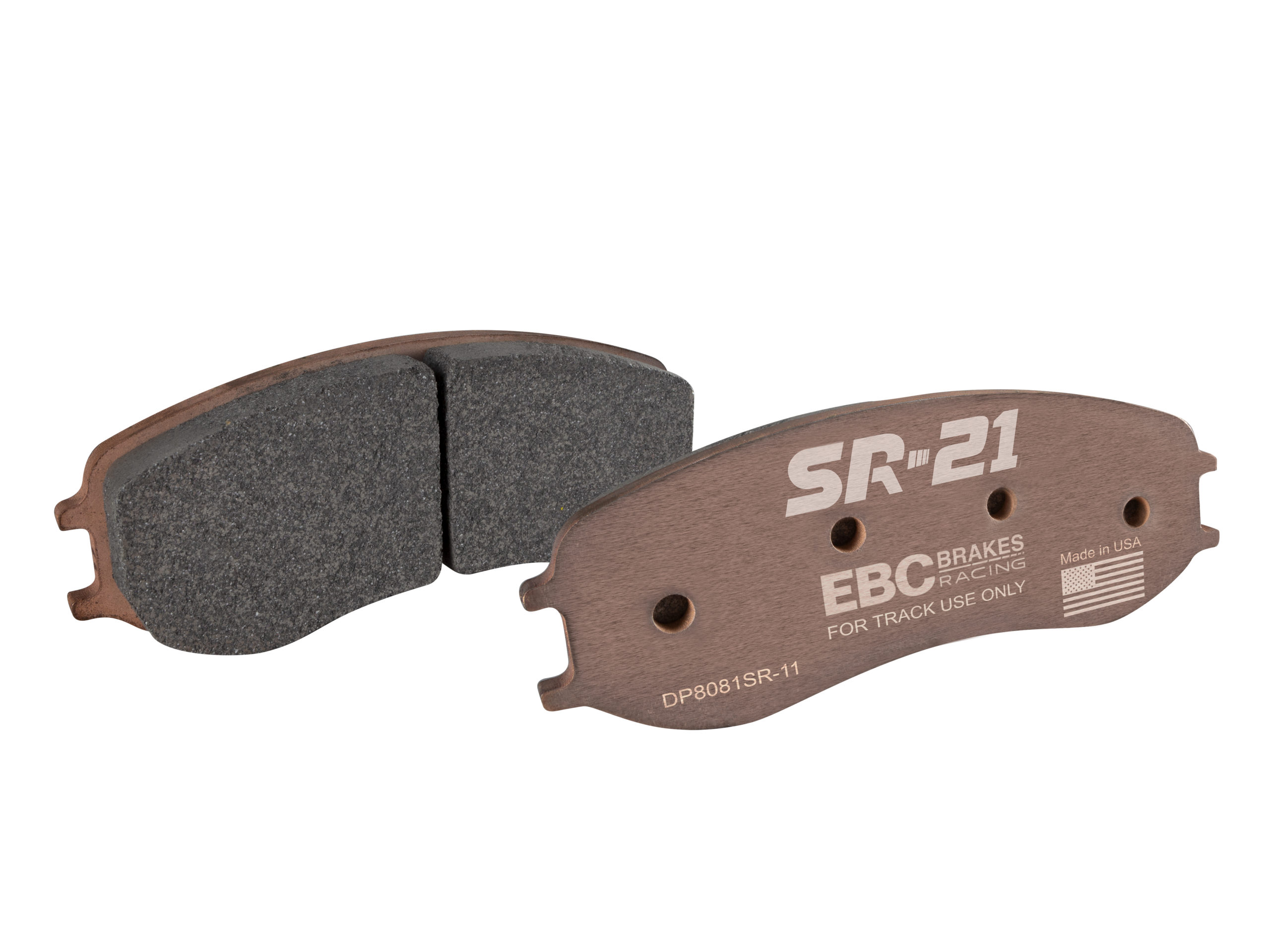 SR-21 Sintered Race Pad
Tested exactly as its SR-11 stablemate was, the SR-21 sintered pad blend has higher friction and a slightly higher heat threshold. Designed for fastest asphalt race and endurance use.
High 0.65mu stable friction
Extremely fast bed in, works from cold
Heat range 0° to 925°C/1700°F
Maximum pad wear life
Minimal rotor wear
Extremely fast bed in, works from cold
Made in the USA
RP-1 Track/Race Pads
Sister pad to the RP-X with slightly lower but very stable friction over a similar temperature range of 150°-800°C/300°-1450°F. Medium-plus lifetime and a great choice for servo-equipped cars.
High stable 0.45mu friction
Fast bed in on the track
Excellent wear life
Strong initial bite, work from cold
Zero disc damage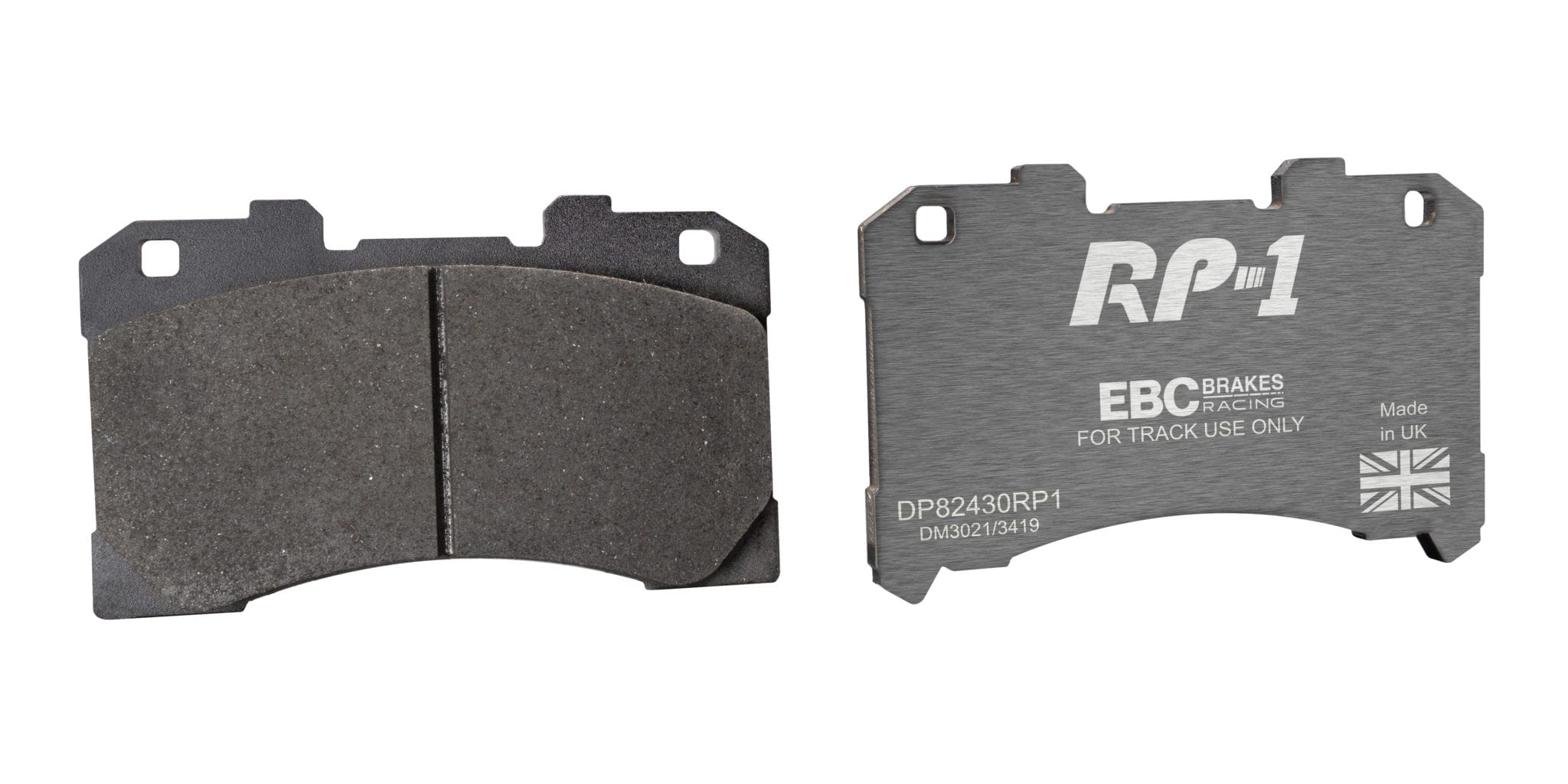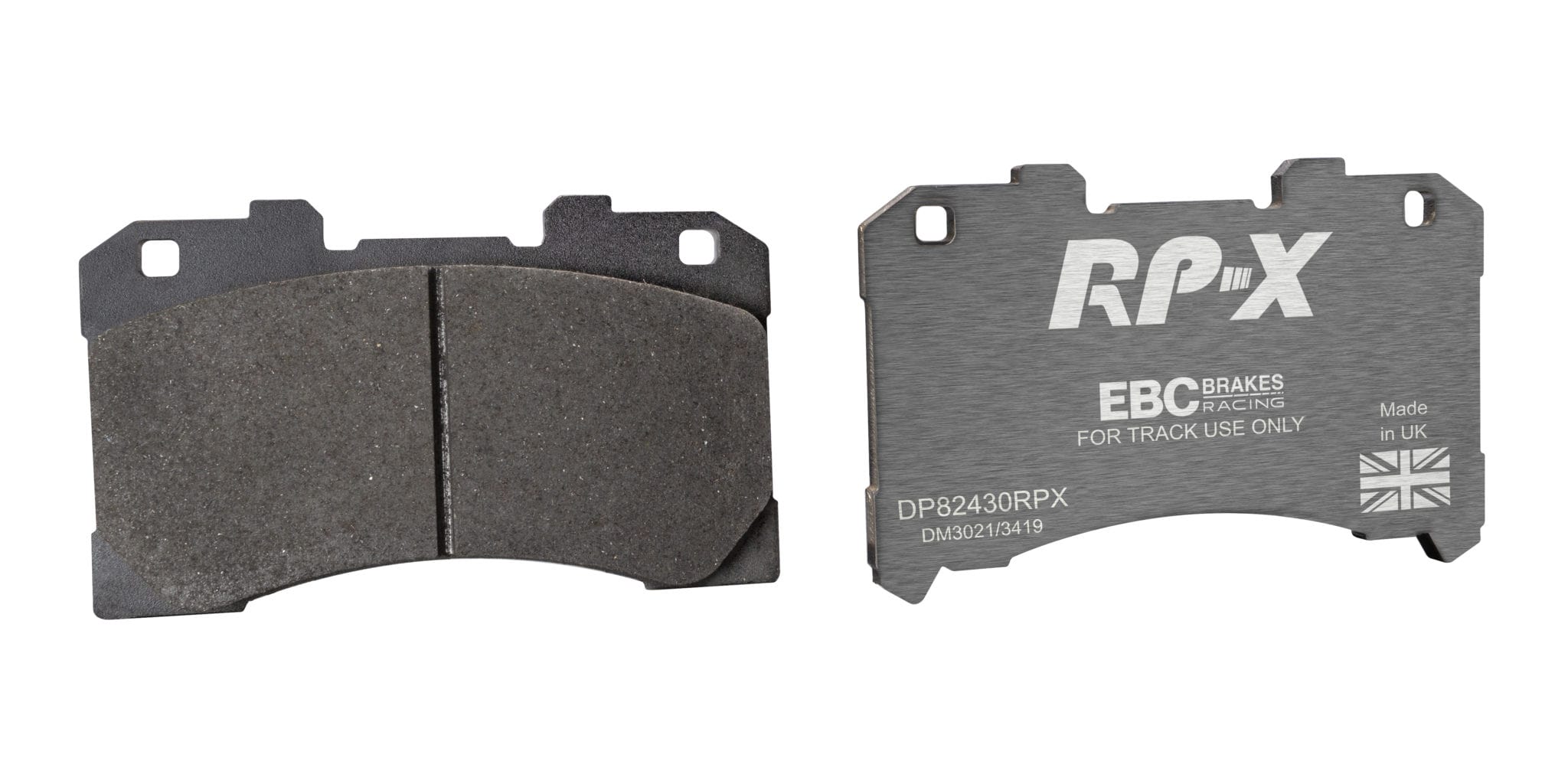 RP-X Track/Race Pads
UK-made high-friction semi-metallic pad, boasting a 0.50mu coefficient with a stable brake effect from 150°-800°C/300°-1450°F. RP-X beds in fast and has a medium-plus race lifetime – perfect for all heavier and faster closed circuit race applications. Good cold bite and short bed in time. Excellent on non-servo cars due to extra bite.
High stable 0.50mu friction
Fast bed in on the track
Very good wear life
Strong initial bite, work from cold
Zero disc damage
Bluestuff Street/Track/Race Pad
Another EBC 'hybrid' material, being street legal to R90 testing available in two friction levels showing a 0.52mu stable friction once bedded or the lower o.42 friction for the new Bluestuff B version. Stable up to a slightly higher 550°C/1000°F than its sister compound, Yellowstuff, but with a 30% longer lifespan. Bluestuff has been a track day favorite for years and has recently been modified to halve its bed in time on the track. The new B version accommodates cars needing a front to rear balance and lighter cars
52mu or 0.42 stable friction once bedded
Strong initial bite, works from cold
New versions now offer super-fast bed-in at the track
Zero rotor damage
Medium race lifetime
EBC Track Pack – What's Included
Caliper Temperature Strips
10x caliper temperature strips (150°C to 220°C)
Useful information (For guidance only) – When running a set-up that utilises multi-piston calipers, it is recommended that the working temperatures are sub-200°C, in most cases the highest acceptable working temperatures for calipers is 220°C.
If your calipers are operated at temperatures higher than 220°C, you will run the risk of overheating the seals equipped in your calipers and you may start to experience issues with sealing etc.
*If your caliper temperature runs higher than 220°C, the dust seals and fluid seals should be replaced.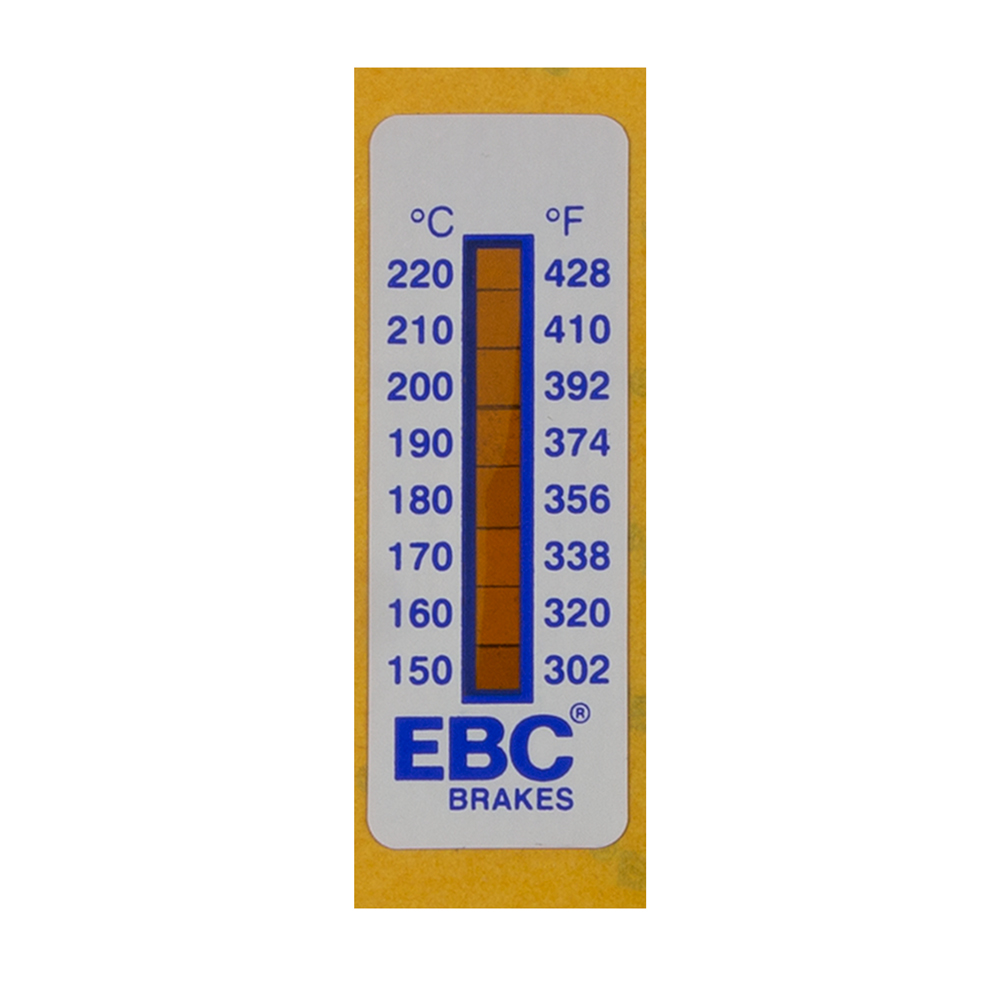 Ultra-High Performance BF307+ Racing Brake Fluid
1L of our BF307+ high performance Super DOT 4 brake fluid which has been specially formulated to provide outstanding performance for braking systems routinely operated at extreme temperatures making this fluid ideal for fast street use, track days and racing. Do not mix BF307+ brake fluid with other brake fluids or its high performance may be compromised.
Typical dry boiling point – 270°C (518°F). Typical wet boiling point – 170°C (338°F)
Disc Heat Paint and Applicator Brush & Cleaner
Paint a half-inch wide strip of each paint close to each other of the outer edges of both front rotors.
After first few laps, observe which of the heat paints have activated and changed. This will give you an idea where your rotor temperatures are going. Re-apply the same paints to a clean area of your rotor edge as your first runs may have generated abnormally high temperatures as pads settle down. Then do a couple more laps and check heat paints again.
Heat paint temperatures (as below)
Green – up to 427°C / 800°F
Orange/Red – up to 538°C / 1000°F
Yellow – up to 649°C / 1200°F
*If your caliper temperature runs higher than 220°C, the dust seals and fluid seals should be replaced.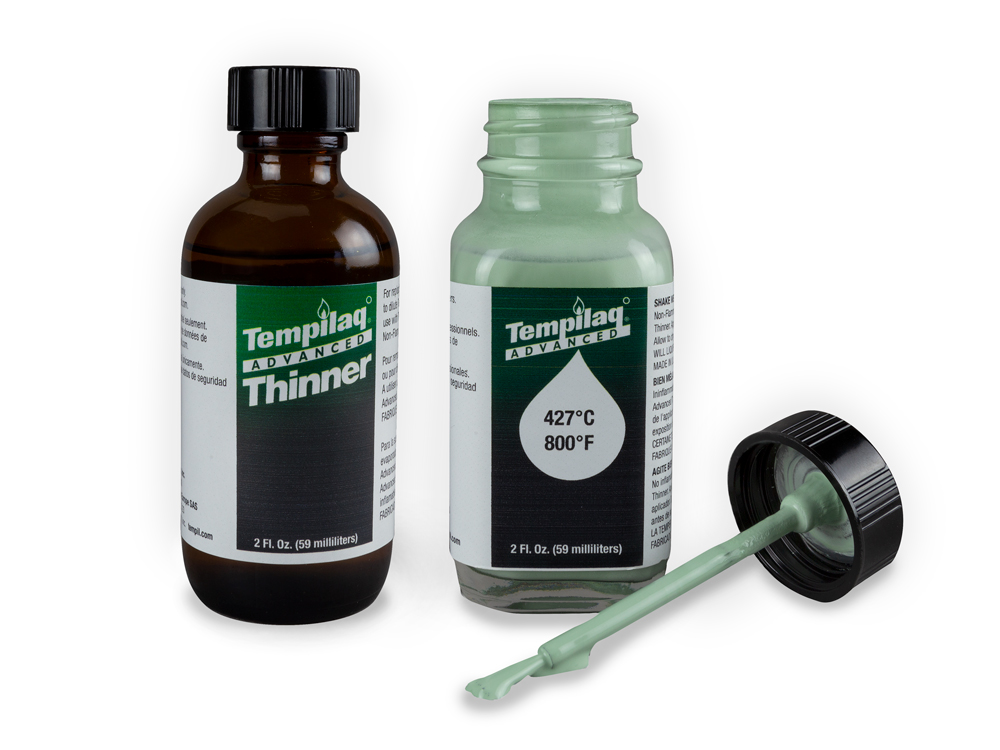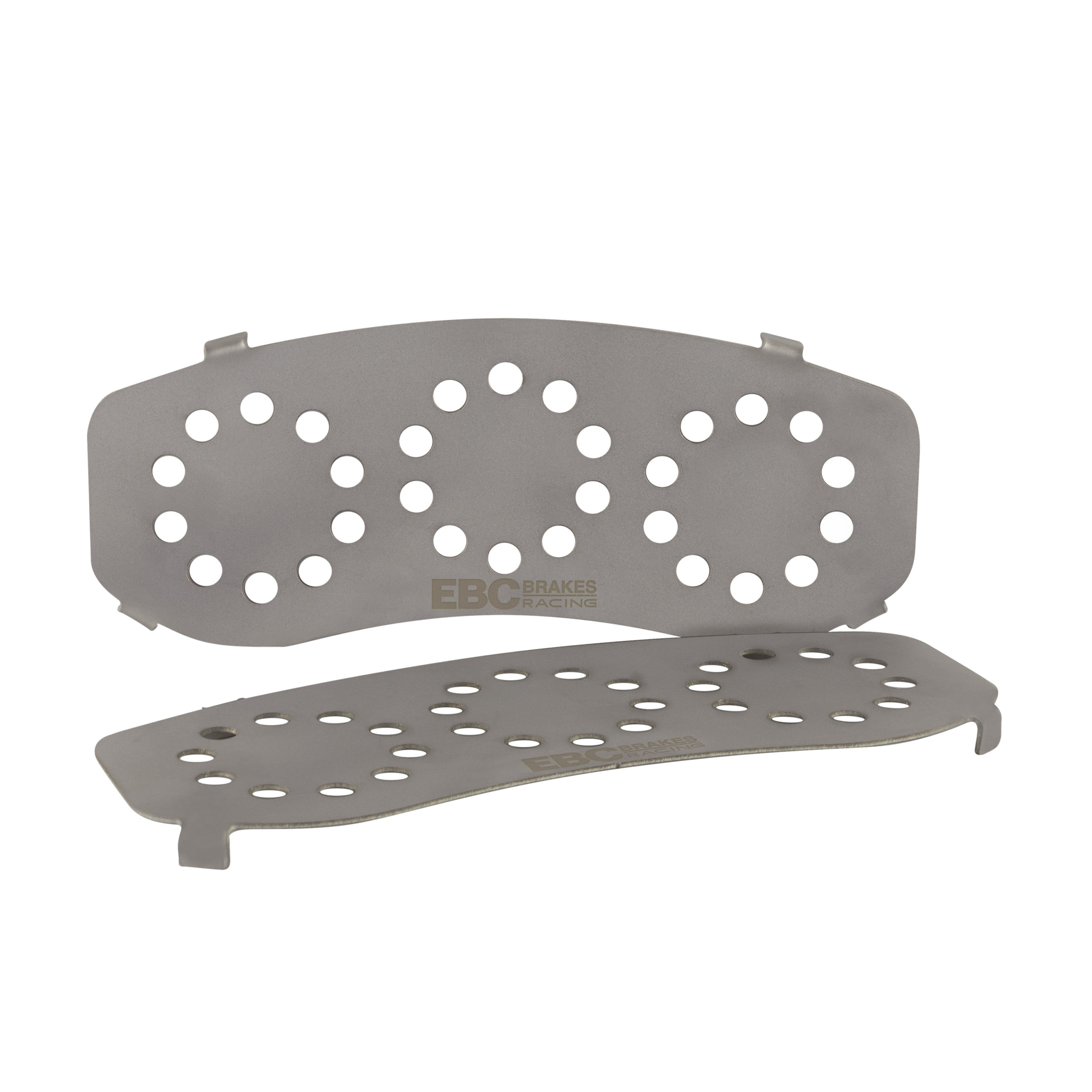 Titanium Heat Reduction Shims
If you are experiencing issues with calipers and hydraulic system overheating, it may be wise to obtain some EBC Titanium Heat Reduction Shims to minimise the chance of this happening again.