Dunn entrusts EBC's EPFA pads and floating discs on his Yamaha TZ250
Motorcycle racer and Motorcycle News tester/contributor, Bruce Dunn, has managed to clinch the overall 2022 BEMSEE Bluehaze GP Championship with his EBC-equipped Yamaha TZ250.
The rider uses EBC's EPFA road/track brake pad up front and standard replacement organic brake pad on the rear, as well as MD-series two-piece discs both front and back.
You can read his thoughts on the season below, as well as his plans for 2023, in his own words below (originally published in Practical Sportsbike magazine).
"After eight rounds, 1200 miles, 23 pistons, two cranks and one high-speed get-off, I'm the BMCRC 2022 Bluehaze GP Champion.
"The cost of keeping my TZ going this year has been something I've tried not to think about until now. But I have noticed my bank account doesn't seem to be so depleted now the season has finished.
"We changed pistons so often this year we ended up calling them 'tear-offs'. These pistons are supposed to be changed every 150 miles – this might sound a bit mental, but I have had them crack and fail shortly after this mileage. The reason for this short interval is that this TZ is fitted with an SJK kit; an over-the-counter power-up kit that increases horsepower by allowing the bike to rev higher.
"But this extra rpm takes the standard 300-mile service life for pistons down to 150 miles. The same goes for the crank, which drops from 1000 miles before a rebuild to around 600 miles. The bike will cover around 125 racing miles at just one BEMSEE meeting, sometimes less, so popping new pistons in for every meeting is a logical thing to do when prepping the bike.
"Plans for 2023 are already being made. Amazingly there are a load of things I need to look into for improvement. First of all, I have some new exhausts being made by Tony Green, not that the old ones are poor, but they're an old design. In my experience new pipes always make better power, and I'm confident that Tony's latest expansion chamber design will bring an improvement. I seem to remember someone telling me that when Aprilia ran their RSW250 in Grands Prix they fitted new pipes for every meeting. I won't be going to that extent, but you see what I'm trying to do.
"I also have to spend some more time optimising cylinder volumes and ignition timing. At the moment, I am using the standard dimensions of the cylinder heads, volumes at 11.8cc and squish set to 0.7mm.
"Other updates will include a complete new set of bodywork, aiming for improved aerodynamics. The front of the fairing is sleeker, with narrower side profiles, and it extends further forward too. The seat is also heavily modified, now curving down at the back, with extended side skirting. This style of bodywork was used by a few teams that competed in the All-Japan Championship, and it's also similar to the Tech3 factory Yamahas from 2000.
"Big thanks (as always) to: Bilstein UK, Roland at HCR, Rock Oil, EBC Brakes, BIKE IT and Stevelin Motorcycles."
The USA-made EPFA sintered pad for fast street, track day and race is a premium long-life street pad with improved fade resistance and heat cycling and improved noise characteristics.
View Product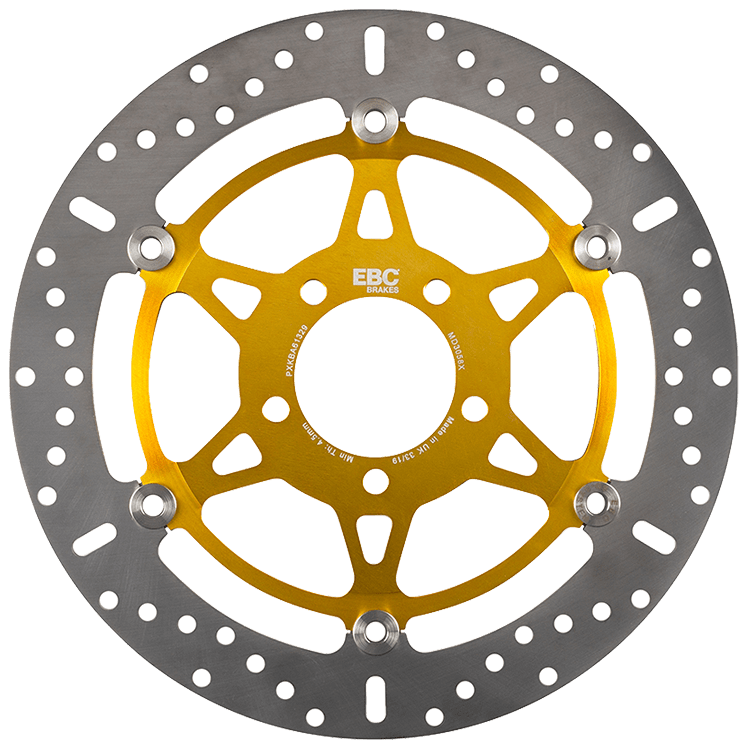 Floating Motorcycle Discs
Since their introduction, EBC's ultra-lightweight floating motorcycle rotors have become one of the worlds best selling lightest and best performing discs available for all modern sport bikes.
View Product