The young racer faced another weekend of thrills and spills, putting in some solid drives for great results
Rising kart star Jensen Powers returned to the fabled Hunts Kart Racing Club in Kimbolton back in mid-March, for the third round of the venue's MSUK Club Championship.
Following a promising start to the year, Powers faced several hurdles over the weekend, illustrating his mature, strong mindset to overcome these and still achieve impressive results.
Powers continues to proudly use EBC Brakes' kart brake pads on his competitive machine for another year.
You can read how this latest weekend panned out in his team's own words below.
"This weekend took us back to Hunts Kart Racing Club in Kimbolton for Round 3 of their own Club Championship.
"Saturday was a full day of testing on worn tyres, with conditions surprisingly good given the snowfall on the previous day.
"Jensen drove very well, trying new lines through turn two and the entry into the Bus Stop which both proved fruitful on the stopwatch.
"And so, to race day on Sunday, firstly having to scrub-in new slick tyres on a very treacherous damp track, doing very well just to keep it on the black stuff.
"Unfortunately, the same could not be said in Heat 1 when, after gaining several places at the start, Jens was later T-boned by a kart returning to the track after their own spill, which would later cost him his place in the A-Final."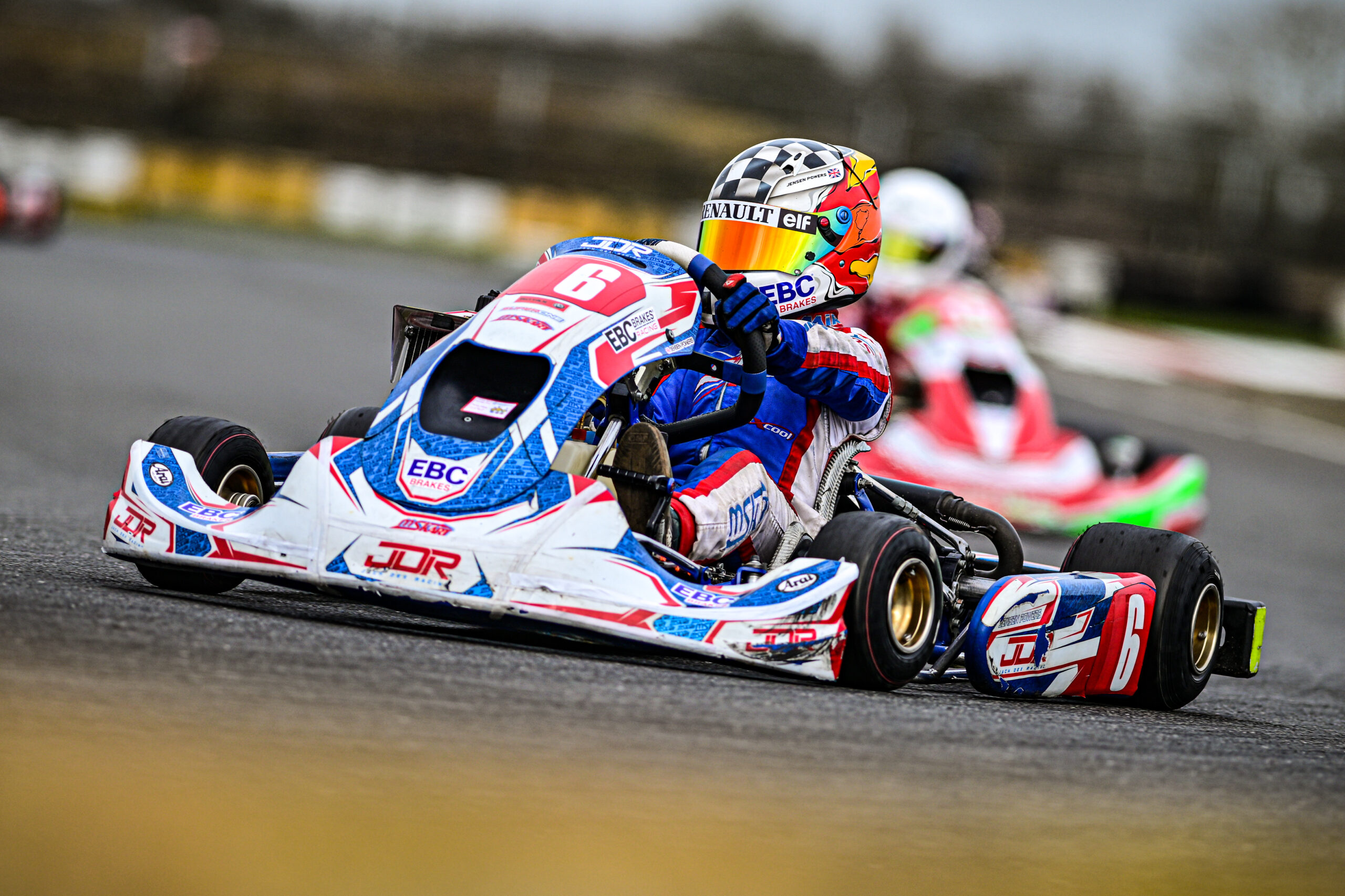 "Heat 2 put JP on row three, and again with a great start and avoiding the first corner melee, he was soon into second place behind teammate Milo Manderson. Try as he might, Jens could not hold off the more experienced British Championship contenders for long enough, but did drag his kart over the line in a very respectable 6th place, a one-place gain from his starting position.
"The A-Final missed by only one place put JP on pole for the very first time in Junior Rotax in the B-Final. Jensen's anxieties were palpable as he waited on the dummy grid for the previous race to finish.
"He kept the baying pack at bay and made a great start, stretching his lead. But his inexperience in starting on the front row meant that he braked a touch too early into turn one and again was punted from the race by the kart behind.
"But boy, something clicked, because Jensen then proceeded to drive his best ever race in his JDR MS-KART by getting his head down a making every overtaking opportunity count, clawing back some six places to finish 9th overall.
"A very mature performance and lots learnt this weekend, which will hopefully benefit in next week's Club Championship at Shenington Kart Circuit.
"Thanks to Jack Dex and all his merry men, Time Races Engines, First Place Finish, Lemsford Building and in particular EBC Brakes for their golden – well, orange – nuggets… If you know, then you know!"