Team Hardline achieved lap records and podiums at the latest round of the Caterham 270R Championship
Team Hardline is a newly established racing outfit that's taking part in the 2023 season of the Caterham Seven 270R Championship with three talented drivers: Charlie Lower, Louise Deason and David Rooke.
The team is using EBC Brakes Racing's RP-X™ motorsport brake pads on the front axles of all three Caterham 270R race cars, as well as EBC Brakes' Bluestuff pads (David and Charlie) and Yellowstuff pads (Louise) on the rear axles.
Following an extremely promising start at Oulton Park last month, the team showed arguably even more potential at North Yorkshire's Croft Circuit for the most recent round of the series.
You can hear how it all went down in the team's own words below.
"Team Hardline showcased their competitive spirit and skill during the second round of the Caterham 270R Championship. The weekend was filled with intense racing, some outstanding performances, and a mix of both success and unfortunate setbacks for the team. All three drivers utilised the Bluestuff pads on the rear axles and EBC Brakes Racing's RP-X™ motorsport brake pads on the front axles.
"Charlie Lower emerged as the standout performer for Team Hardline throughout the race weekend. Lower dominated the front of the grid, displaying remarkable pace and control. In Race 1, Lower secured an impressive P1 finish while also setting the fastest lap of the race. This noteworthy performance set the tone for the rest of the weekend. In Race 2, Lower continued to excel, claiming another P1 finish. Although he faced a slight challenge in Race 3, Lower's determination paid off as he secured a solid P2 finish.
"David Rooke showcased great speed and competitiveness throughout the weekend. He fought hard at the front of the grid, proving to be a formidable opponent. In Race 1, Rooke exhibited his skills and tenacity, securing a commendable P4 finish. However, in Race 2, unfortunate luck struck when his radiator broke, forcing him to retire early while running in a promising P3 position. Undeterred by this setback, Rooke showed his resilience in Race 3 by making a remarkable recovery from the back of the grid, ultimately finishing in an impressive P10 position."
"Louise Deason demonstrated consistent improvement and determination during the race weekend. With each outing, Deason chipped away at her lap times, showcasing her commitment to progress. Throughout the races, she engaged in clean and exciting battles with fellow drivers, displaying her racing skills. In Race 1 and Race 2, Deason achieved a respectable P18 finish, while in Race 3, she managed to further improve her position, crossing the line in P16.
"Overall, Team Hardline had a memorable weekend in the second round of the Caterham 270R Championship. Charlie Lower's dominant performances, including a pole position, fastest lap, and podium finishes, highlighted his exceptional talent. Despite facing setbacks, David Rooke's strong presence at the front of the grid showcased his competitive spirit. Louise Deason's consistent progress and clean battles demonstrated her dedication and potential. The team's collective efforts ensured an exciting and memorable race weekend for Team Hardline."
Quotes from the Team:
"This weekend, I changed from EBC's Yellowstuff rear pads to the more aggressive Bluestuff. I was pleasantly surprised with the performance and confidence this gave me under braking. I found the Blue pads had a lovely bite to them and really helped to get the car stopped when being pressured. Great weekend – couldn't be happier with the car and my performance." – Charlie Lower
"This was the second race weekend using the EBC Brakes setup, and I was delighted by my pace and consistent performance. Running in the front group was a great step forward, with P4 being my best result in Caterham racing and I'm looking forward to being competitive in our next meeting at Zandvoort GP." – David Rooke
"Using EBC brakes gives me the confidence to push hard and keep chipping away at lap times. Whilst I wasn't a front runner, I had some great racing and I look forward to working my way up the grid for Zandvoort." – Louise Deason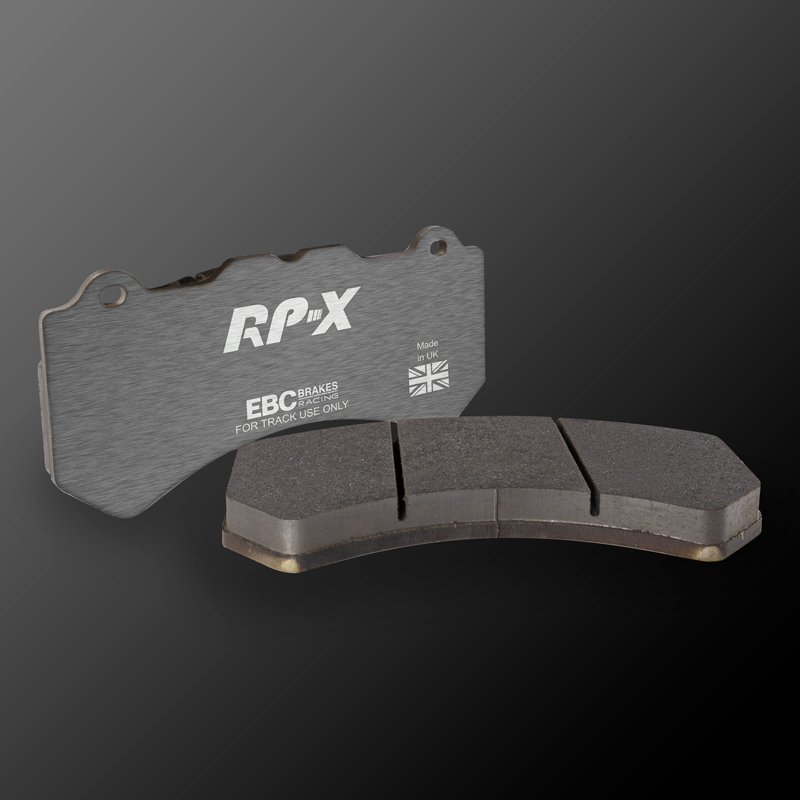 Following the hugely successful launch of RP-1™, EBC Brakes Racing increases its motorsport brake pad range with the introduction of our latest ultra-high-performance track & race material, RP-X™.
View Product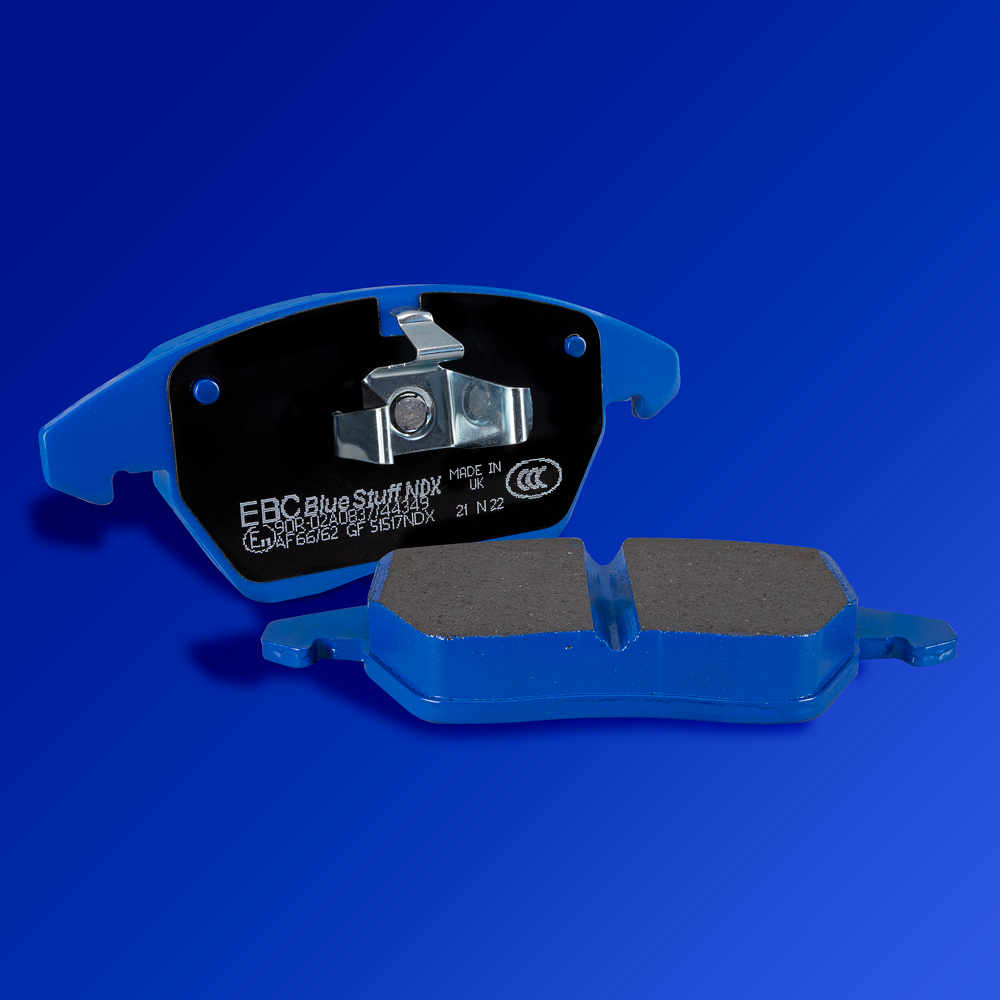 Bluestuff NDX is a high-friction sport and race pad that now has R90 approval on almost all fitments for the EU and is therefore totally street legal. Ideal for road-going sports cars and club-level racing events.
View Product