EBC Greenstuff™ 
Brake Pads
For spirited street use on lighter sports sedans and hot hatches, Greenstuff 2000 series is a perfect choice.
Discover
The number one selling
EBC Sport Pad
As an eco-friendly pad grade, EBC Greenstuff 2000 contains no lead, copper, or toxic sulfides to comply with all environmental legislation and is a direct replacement for your stock or original pads reducing stopping distances and improving brake response.
Not ideal for track use,  although many drivers have used Greenstuff 2000 for Hillclimb and lighter cars on the track
For even faster street driving you might consider the EBC Yellowstuff grade or for race use the EBC new Bluestuff or RP and SR series pads
The green range is approved to ECE R90 for highway use. For more details on ECE R90 (Regulation 90 brake safety standard) click here.
A medium to low dust material that offer a nominal 10-15% brake improvement
Improved resistance to heat fade at higher speeds
Suits modern Euro and Asian models alike
ECE R90 approved for all cars that require the European legislation compliance
Red brake-in surface coating accelerates pad brake in after install
Features red "brake in' surface coating for instant safe braking after install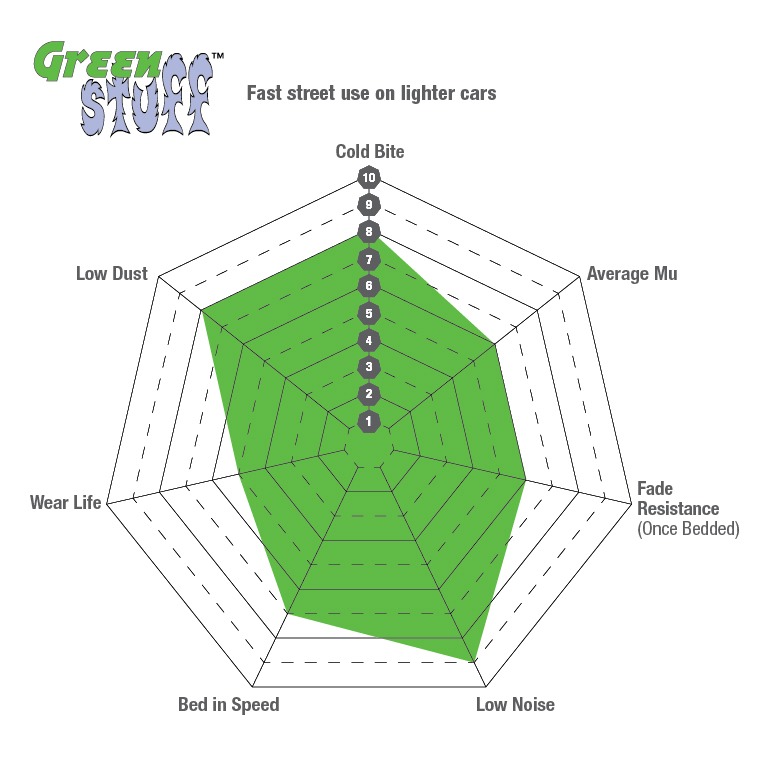 Greenstuff™ – 2000 Series Brake Pads

EBC Greenstuff™ has a high initial brake effect and gives drivers confidence from first application of the brake pedal. There is no such thing as a no dust pad. The very nature of how a brake works requires that some dust be generated to avoid rotor vibration (shimmying). The EBC pad creates less dust and dust is more easily washed off than most. All pads create more dust as they are bedding in especially if rotors are worn. Nominal friction coefficient 0.55. For heavier faster cars we strongly recommend Redstuff which does offer much less dust.
Where to buy
Can't find what you're looking for?
The EBC Brakes team is always happy to help. If you can't find what you're looking for, please don't hesitate to get in touch via our Contact page. But be sure to check our FAQ's first, in case your query has already been answered.
Contact EBC
Part Finder